Dede Thompson Bartlett '65 Visits Campus to Talk Career Education
Dede Thompson Bartlett '65, who is making a major donation to the College, visited campus on October 25 to talk about her gift with administrators and to meet with students who received the 2023 Thompson Bartlett Fellowships in Science, Mathematics, and Computer Science and Economics. Bartlett has funded these fellowships for the past 10 years.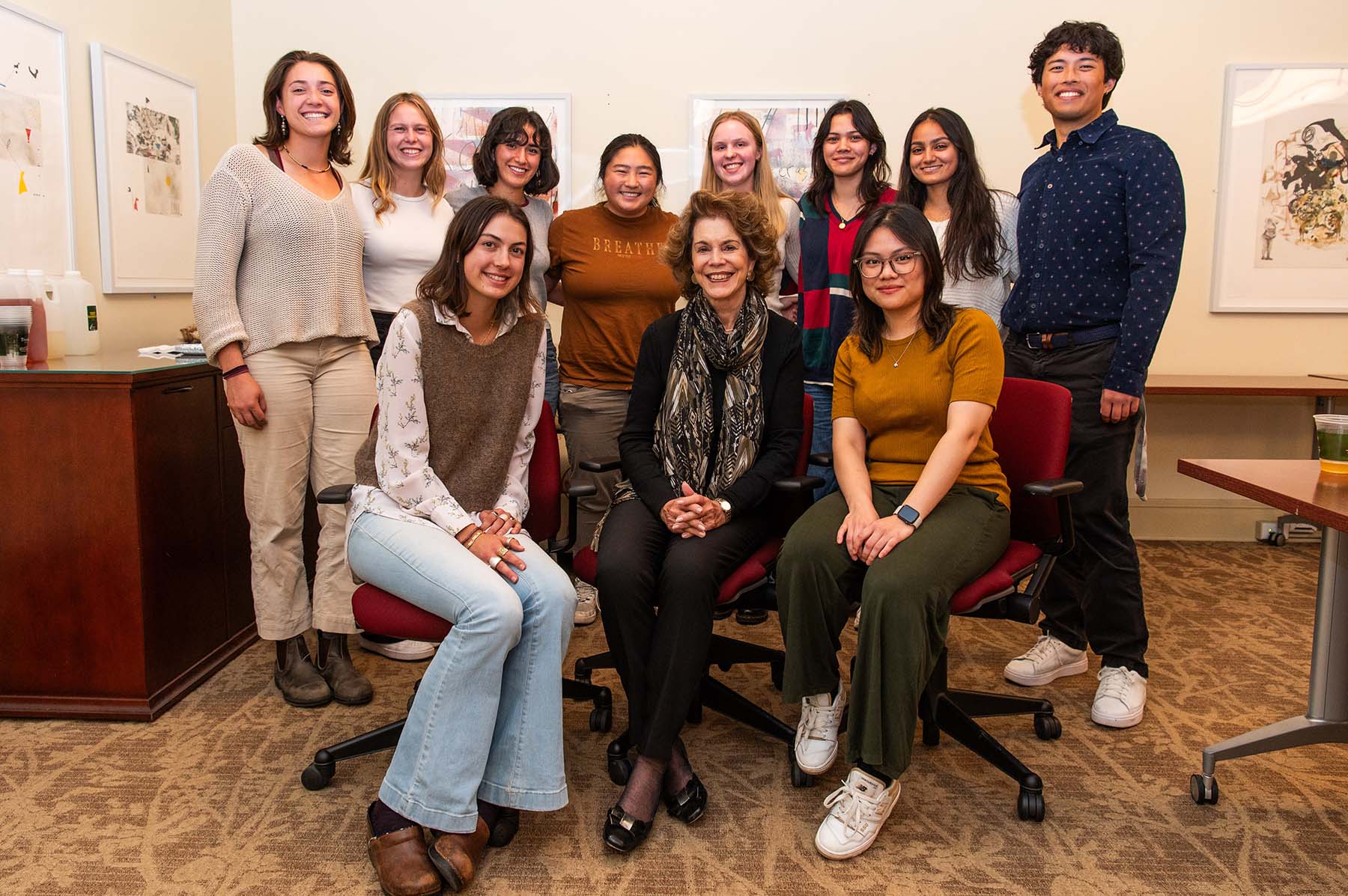 Bartlett has pledged $10 million toward the construction of a new building on campus that will house the Office of Admission and the Center for Career Education. "I am thrilled with the plans for this new building," Bartlett said. "It demonstrates Vassar's strong commitment to a vigorous career education program that will impact students for decades to come. Prospective students and their parents will see how Vassar's superior liberal arts education can lead to rewarding careers. And current students will be motivated and inspired by the wide variety of new programming available."
Bartlett met with President Elizabeth H. Bradley, Stacy Bingham, Associate Dean of the College for Career Education, and other officials for an update on the construction schedule for the new building, which will be located near the northern entrance to the campus. Groundbreaking is expected to take place next spring, and the building is scheduled to open in the fall of 2025.
Bartlett said her idea for funding the building began in 2013, when she decided to underwrite internships for Vassar students majoring in STEM-related subjects and economics. She said that 100 Vassar students to date have benefited from this initiative. "I feel so fortunate to have been able to fund these internships," Bartlett said. "The playing field is still not level for certain students entering these fields, and funding these internships enables them to explore careers that would otherwise not be open to them."
Bingham said the go-ahead for developing a construction schedule for the new building was approved by the Board of Trustees in October. "We can now proceed with picking a construction management firm," Bingham said. "This building will enable us to expand our staff and programming in a modern, state-of-the-art career education facility. And pairing it with Admissions makes sense because prospective students will get to see the tangible outcomes of a Vassar education."
Bartlett said the new building symbolizes the value of a liberal arts education in preparing students for successful careers in a rapidly changing world. "Vassar taught me how to think and communicate," she said, "and the explosion of AI underscores the need for critical thinkers now more than ever."