Book by Chip Reid '77 Documents Experiences of Iraq War Veterans
The veteran journalist returned to campus to honor to the Marines with whom he was embedded 20 years ago.
Two days before Veterans Day, former television journalist and Vassar alum Chip Reid '77 returned to the Vassar campus to pay tribute to the Marines he had accompanied into battle at the start of the Iraq War 20 years ago.
Reid is the author of Battle Scars, a book he wrote after retiring from journalism in 2021. It tells the stories of Marines who fought their way to Baghdad in 2003 and the same Marines' reflections, 20 years later, on how their wartime experiences had shaped their lives.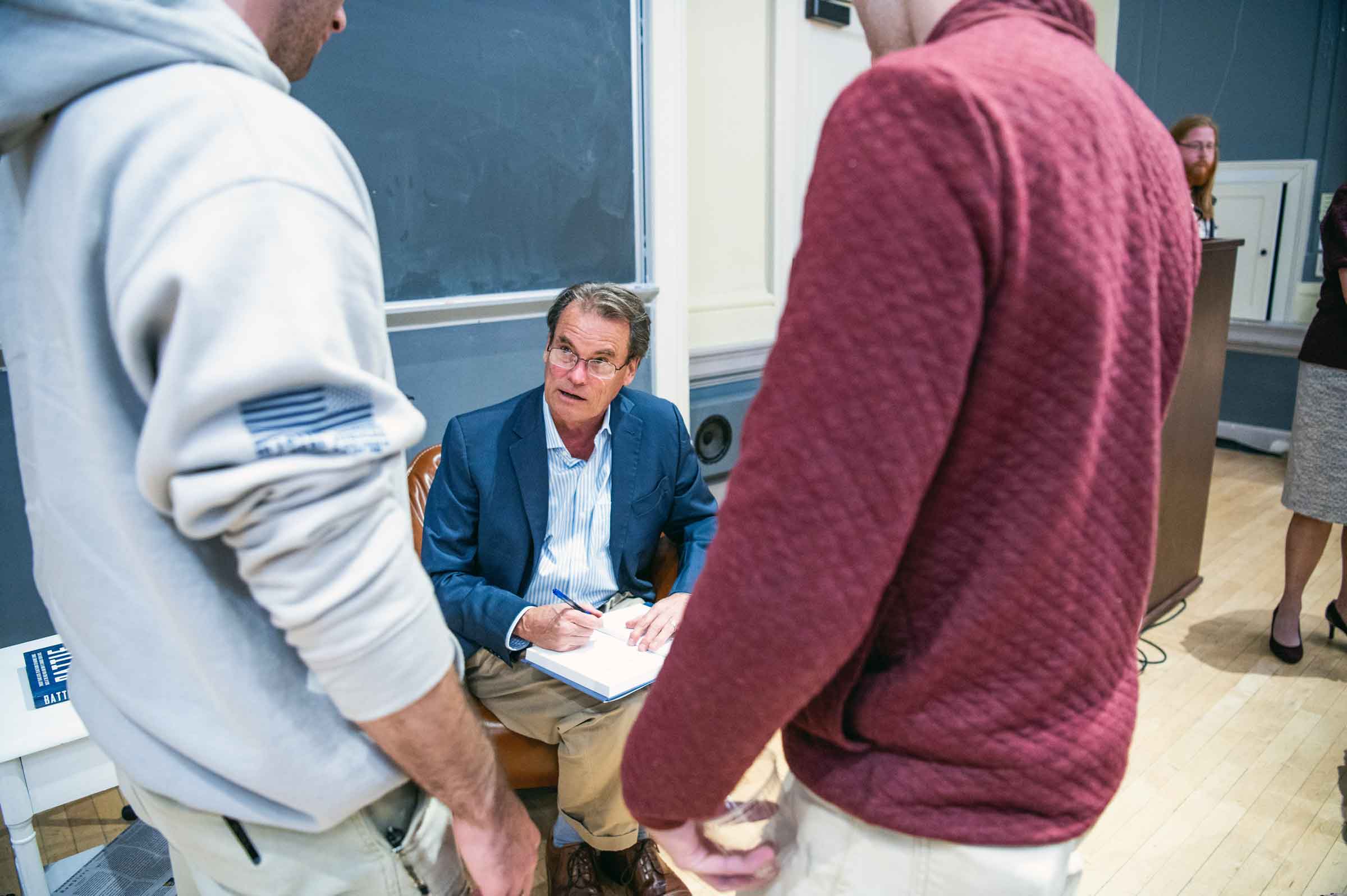 Reid was a correspondent for NBC News when he embedded with the 3rd Battalion, 5th Marine Regiment for six weeks in 2003, including the 22-day trek from their training facilities in Kuwait to Baghdad. Nearly two decades later, Reid revisited 20 of the men in the unit and members their families as they recounted the struggles and triumphs in their lives since leaving military service.
"It was an extraordinary experience being with these young men, many of them the same age as Vassar students, making these life-and-death decisions," Reid said during his 90-minute talk, moderated by members of the Vassar Veterans Association in Rockefeller Hall.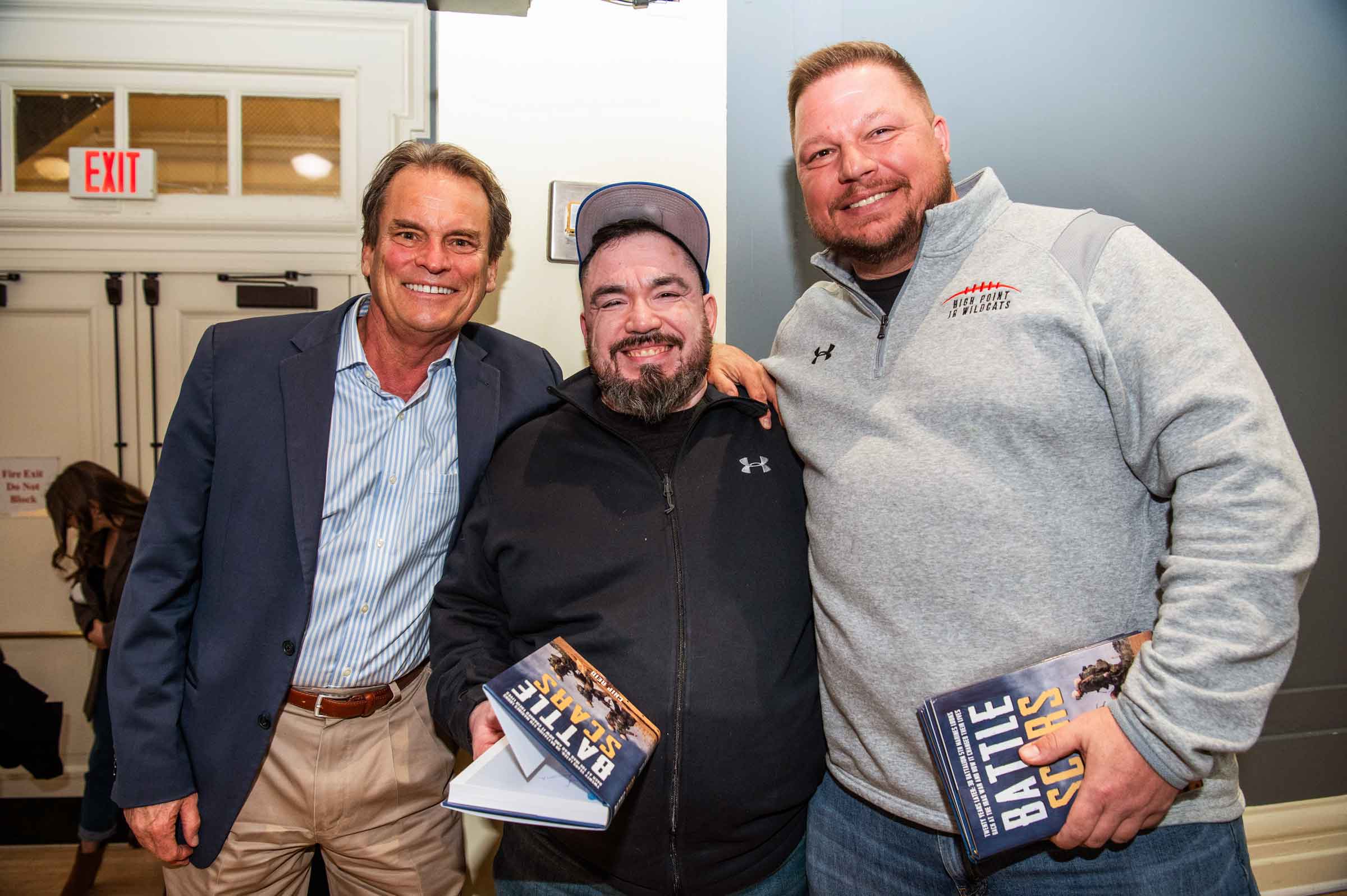 Reid said he had witnessed a particularly horrifying incident in which two young Iraqi girls had been killed by Marine fire when they were used as human shields by Iraqi forces. "That night, I realized how hellacious war can be and how horrible accidents can happen," he said. "Civilians are always caught in the middle."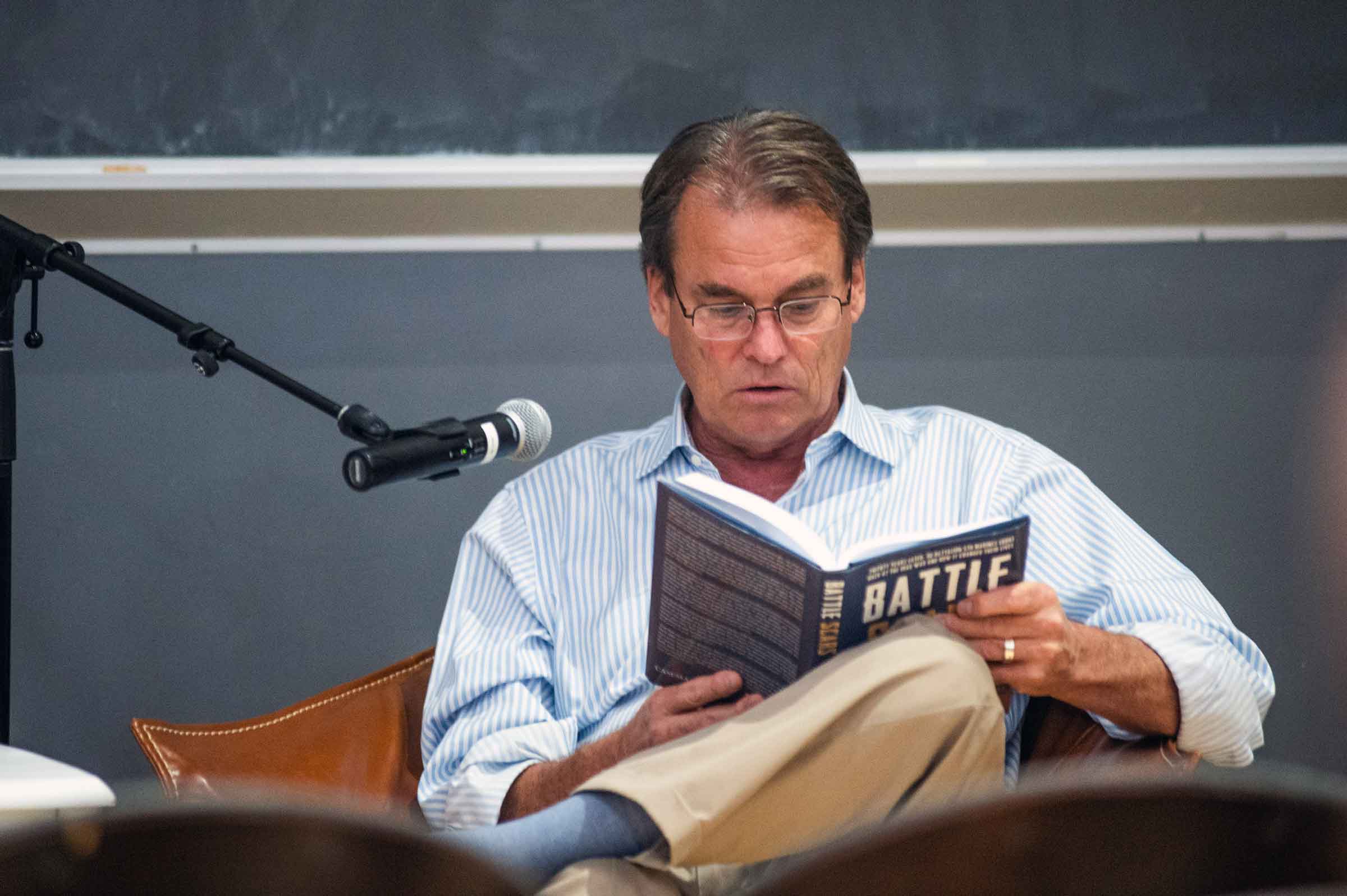 Many of the Marines Reid met while he was embedded with their unit in 2003 experienced symptoms of post-traumatic stress disorder in their civilian life. But he said he had been urged by Lieutenant General Sam Mundy, who had been commander of the Marine battalion in 2003, to use the book to also tell the stories of those who had overcome their struggles and had experienced "post-traumatic growth," the "other side of PTSD."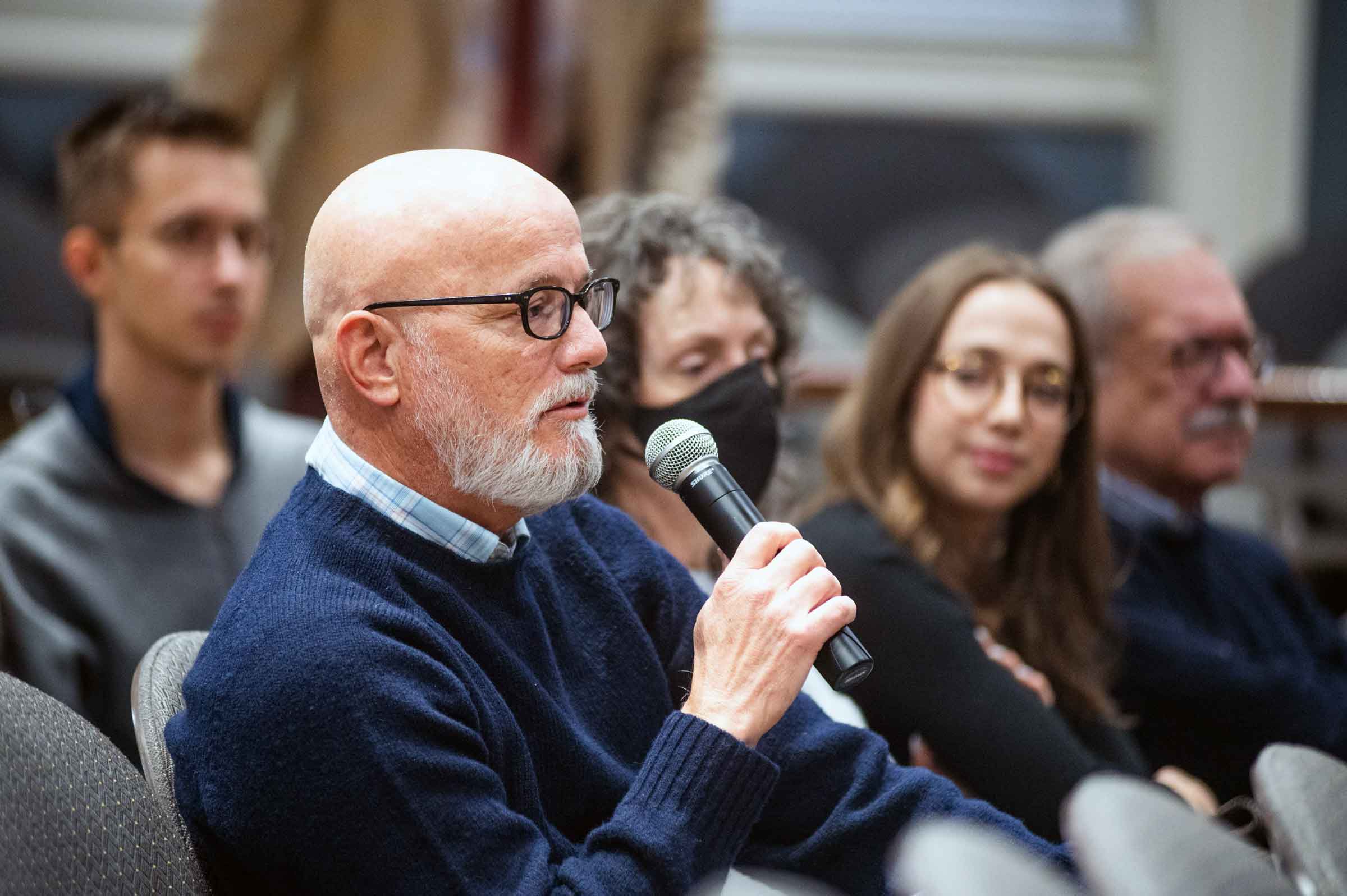 Reid said he hoped readers would view the book as a tribute to the Marines he had gotten to know and admire, and by extension, to all men and women who serve in the military. "My message is to stop ignoring them just because it was an unpopular war," he said. "We lost 4,000 in Iraq, and I want people to know who answered the call and put their lives on the line."
Most of those who attended the event were students, faculty, and other members of the Vassar community. But one member of the audience who took part in the discussion, retired Marine John Swords, had driven nearly two hours from his home in New Jersey to be there and have Reid sign his copy of Battle Scars. "I was there the night those girls were killed, and I spoke to Chip several times back then," Swords said.
He added that he was not initially in favor of having a journalist accompany the Marines on their journey to Baghdad, "but I've come to believe it was a good thing Chip was out there with us telling our story. I came up here to thank him for telling our stories and the stories of our brothers who didn't come back." And while he was glad Reid had written Battle Scars, he said it wasn't an easy book for him to read. "There are times I have to stop reading and just put it down," he said.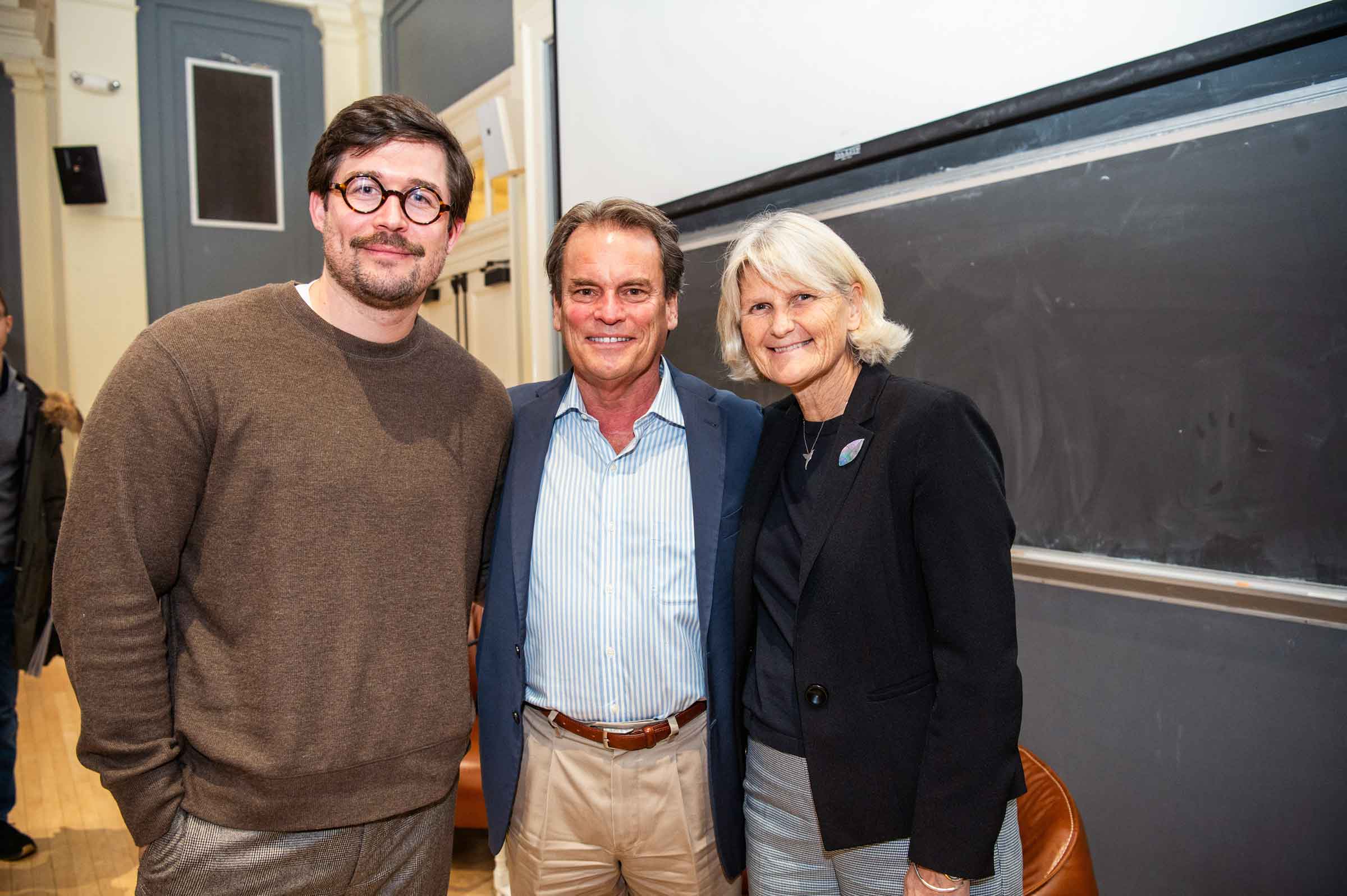 The two members of the Vassar Veterans Association who co-moderated the discussion, VVA President Brittany Andrade '24 and Brian Lepak '24, both said they too had difficulty reading the book. "It was hard," Andrade said. "I have a little brother in the Army who is now stationed in Iraq and his unit has been fired upon several times since the outbreak of the conflict in Israel and Gaza. But I appreciate the stories Chip told of recovery and post traumatic growth."
Reid said he believed the outbreak of wars in Ukraine and the Middle East had enhanced the importance of his book. "Right now, we have 45,000 troops in the Middle East," he said. "I can guarantee you there are contingency plans in place to go to war," he said, "and whatever happens, we can't forget to help them when they get home."