Award-Winning Students Inspire by Serving
Photos Elizabeth Randolph
Thirteen Vassar students have received awards for their extraordinary contributions to life on campus and in the greater community. President Elizabeth H. Bradley presented the Wendy Rae Breslau and Frances Aaron Hess '53 awards to seven students at a ceremony in the Aula on May 3 hosted by the Office of Community-Engaged Learning (OCEL). OCEL Director Elizabeth Cannon and Assistant Director Jean Hinkley presented six Helen Miringoff Awards.
Before she presented the awards, Bradley said she was inspired by the recipients' commitment to the College and the local community. "It's completely integral to a liberal arts education to do work in the local community," she said. "Today we are celebrating our students' commitment to our community."
Cannon also lauded the recipients for their service. "Their efforts have made a true impact, both on and off-campus," she said, "and the awards ceremony uplifted our collective efforts in strengthening campus-community partnerships through meaningful community engagement and high-impact learning experiences."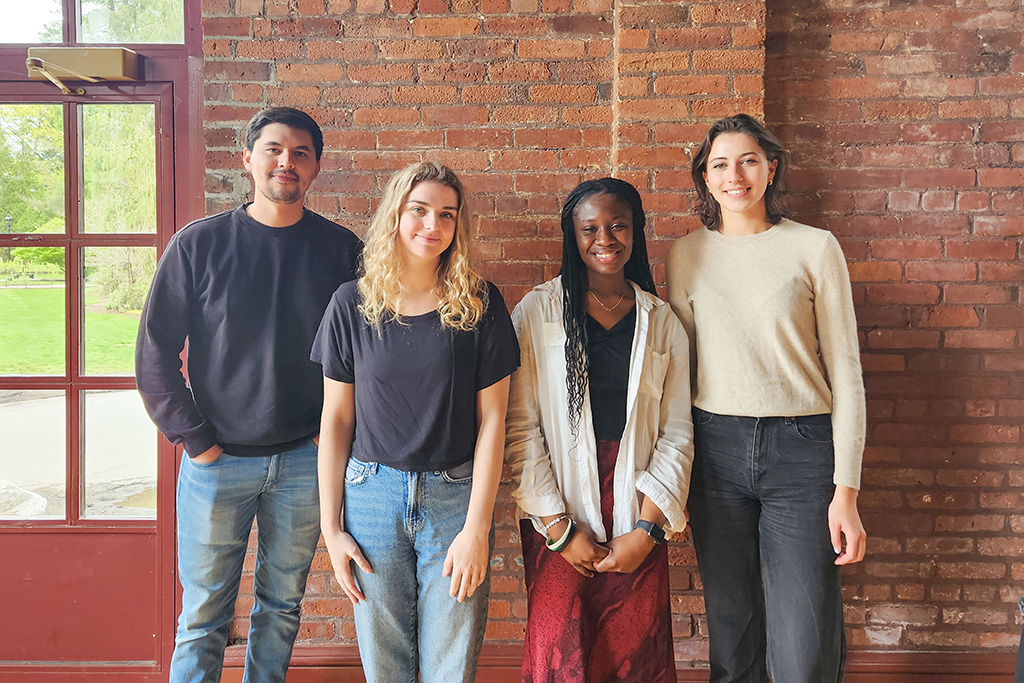 The Wendy Rae Breslau Award is presented annually to one or more Vassar sophomores who exhibit outstanding concern for the well-being of their peers and society in general. The award was established by the parents of Wendy Rae Breslau, a member of the Class of 1974 who died tragically in an automobile accident before she graduated. This year's recipients are:
Alejandro Castro Jr. '25: Castro served as Social Media and Programming Coordinator for the Vassar Veterans Initiative. He was also a member of the Transitions Research Team, gathering information on first-generation and low-income students to help improve their college experience. Castro also serves as a volunteer for several community-based organizations, including God's Love We Deliver, the Posse Foundation, New York City Common Pantry, Hudson River Housing, and the River Fund Foundation.

Annie Adams '25: Adams served as a Student Fellow and House Fellow Intern and was an Emergency Medical Technician with Vassar College Emergency Medical Services (VCEMS). She is a member of the Vassar Jewish Union and the Title IX Student Advisory Committee, the Community Expectations Panel and served as a Dorm Voting Advisor for Vassar Votes.

Anisa Salahou '25: Salahou is President of the Muslim Students Association (MSA) and treasurer of the Black Student Union. She was also a member of Students for Justice in Palestine and served as a mentor for Poughkeepsie Middle School students as a member of Vassar Education Collaboration. She also served as a volunteer with For the Many, a local grassroots organization.

Amber Eddy '25: Eddy was a leader of ACCESS, an organization that focuses on advocating for students with disabilities. She also volunteered for Planned Parenthood, providing emotional support for women seeking reproductive health care.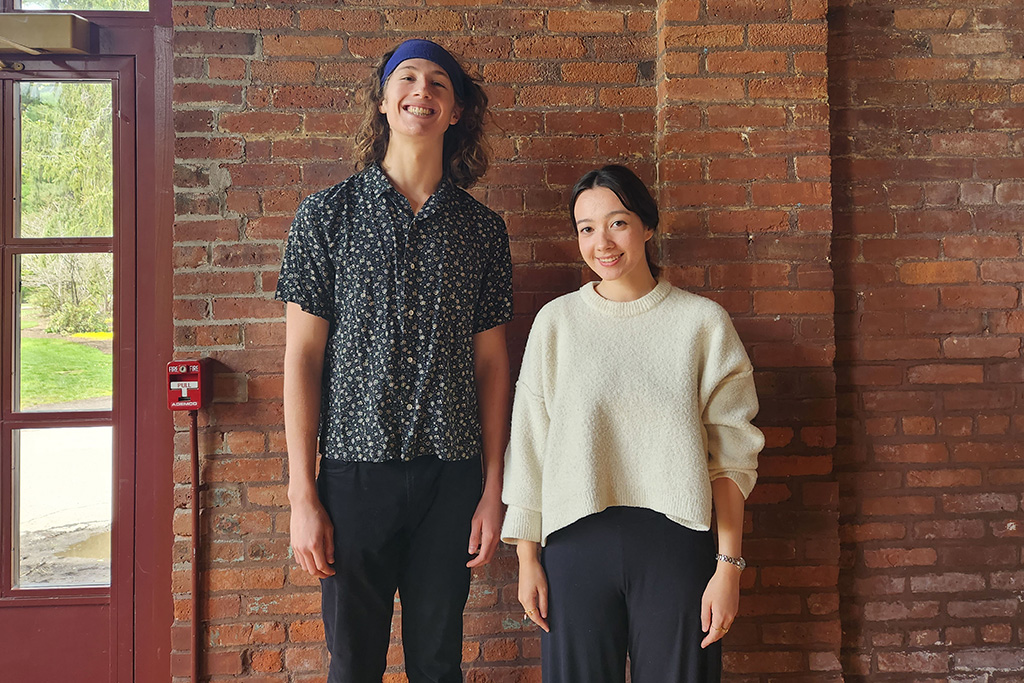 The Frances Aaron Hess '53 Award recognizes students for their volunteer service in communities outside the campus. The award enables recipients to direct a charitable donation to an organization of their choosing. It was established to honor Frances Hess, who was a tireless volunteer in her community. This year's recipients are:
Angela Clemens '23: Clemens has served as a volunteer for the Vassar English Language Learners Program for four years and attends sessions of the English as a New Language class at Poughkeepsie High School.

Martin Burstein '23: Burstein has served as a Student Fellow and Orientation Leader and was a member of the student environmental advocacy group SEED. He also volunteered for the grassroots community organization For the Many.

Gabby Khan '24: Khan was a volunteer with Finish Strong, a local nonprofit organization that provides physical education activities and other after-school programming for Poughkeepsie students.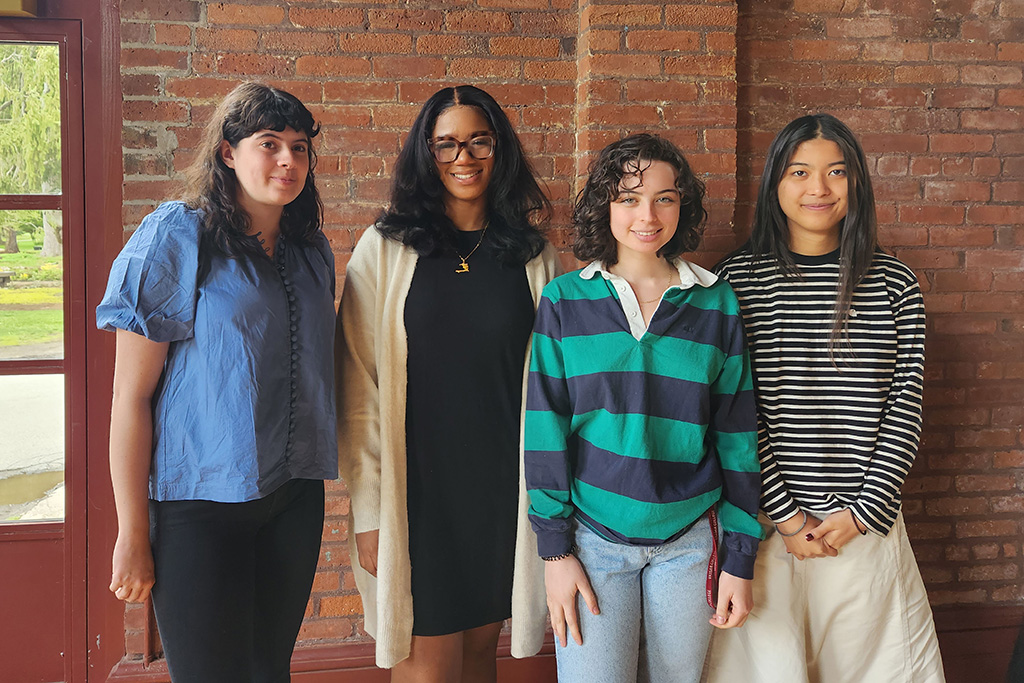 The Helen Miringoff Award recognizes students who have made significant contributions to a local agency or the community at large while participating in programs administered by the Office of Community-Engaged Learning (OCEL). Helen Miringoff was director of Vassar's Field Work Office, now known as the Office of Community-Engaged Learning, for three decades. This year's recipients are:
Rose Sosnowski '23: Sosnowski completed two major projects for Habitat for Humanity of Dutchess County, enabling the organization to serve more families in the community.

Laury Senecal '23: Senecal served as a volunteer for the American Lung Association, working with school children suffering from severe asthma through the Kickin' Asthma Program at Poughkeepsie Middle School.

Am Chunnananda '23: Chunnananda conducted research for MASS Design, a Poughkeepsie urban renewal organization.

Leila Barnes '23: Barnes was a volunteer with the nonprofit group SIECUS: Sex Ed for Social Change, which provides sex education programs in local schools. Barnes served as a Policy Intern, preparing materials for use by advocates, journalists, and legislators.

Sophie Mode '25: Mode was a volunteer for Arlington Partners Against Racism, speaking at local school board meetings and organizing community events. She also worked on the campaigns of two Arlington Board of Education candidates.

Ari Henry '23: Henry was nominated by her supervisors at Sustainable Hudson Valley, where she provided support in the development of a Regional Climate Action Road Map and Tool Kit. She also served as a Community Geographer for the Office of Community-Engaged Learning, addressing issues of social inequity.