An 'Intensive' Look at Precolonial African History
Straight from the Source
Professor of History Ismail Rashid likes to remind his students that history is multidimensional. "It's more than words written down on paper," Rashid said. "It's the spoken word, it's music, and it's tactile objects that have been created by people in every culture."
Last fall, Rashid and seven students put these words into practice in an "intensive" version of a course on precolonial African history. The students were assigned written texts that traced the history of Africa from ancient Egypt to the 18th century. But for their final project, they told the story of Africa in more creative ways—with podcasts and poetry and painting.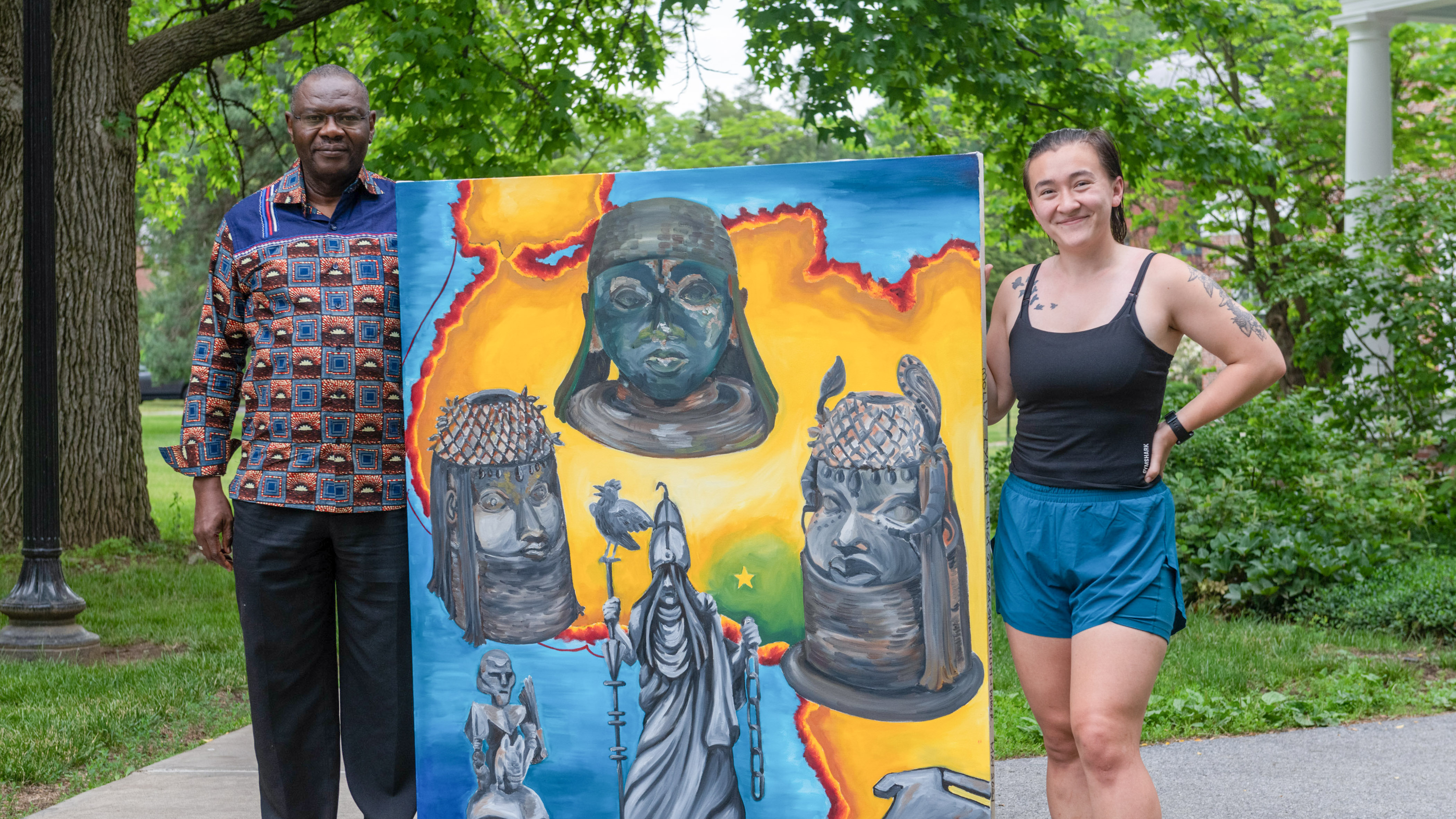 In fact, Rashid and his colleagues in the History Department were so impressed by a painting by studio art major Molly Lynch '21 that they bought it from her so they could hang it in a hallway outside their offices in Swift Hall. "It is a large and stunning piece of work that is interdisciplinary in scope and aptly captured the essence of the course and the spirit of the 'intensive,'" Rashid said.
Lynch's painting, a 5-foot-5-inch-by-6-foot oil on canvas, tells the story of the importance of ironworking in the early West African kingdom of Benin. With West Africa and the trade routes between Africa and Portugal as a backdrop, Lynch painted the forge and tools of metalworkers, brass heads fashioned by ironworkers in three separate eras, and a sculpture of the god Ogun. She noted that ironworkers were not only considered vital to commerce but also revered as holy and spiritual. "It is believed that ironworkers embodied Ogun when they practiced metalworking," she explained, "tying them closely to the gods, elevating them in an aura of mystery, spirituality, and godliness."
Rashid said he was impressed by all of the projects his students had fashioned to cap the course. "As an African historian, I have always thought that history is best taught in an interdisciplinary way," he said, "and this class was a successful example of that."
Lynch said she was pleased that Rashid and his colleagues had decided to preserve her work as an enduring example of the teaching and learning of history at Vassar. "It was very kind of (Rashid) to tell me he wanted to keep it," she said. "I was proud to have made something that the faculty wanted to use as an example of our 'intensive' class."
---
Straight from the Source is an ongoing editorial series that offers a peek into Vassar's diverse open curriculum and programs, which help shape and develop the critical thinkers, doers, and leaders of the future.