Alums Aid Local Conservation Efforts for 'Vassar Serves' Week
Photos courtesy of Vassar Clubs
When Vassar alums are called upon to find ways to make the world a better place, they always respond. The latest example: an impressive turnout by Vassar clubs from London to San Francisco for the second annual Vassar Serves initiative.
The week between Earth Day and Founder's Day was chosen as a time for alums to take part in conservation-related activities, and Vassar clubs in more than a dozen communities answered the call. "Vassar teaches you to go out and do good in the world, and this initiative epitomizes that," said Deb Macfarlan Enright '82, who cooked up the idea for Vassar Serves last year around the theme of food insecurity.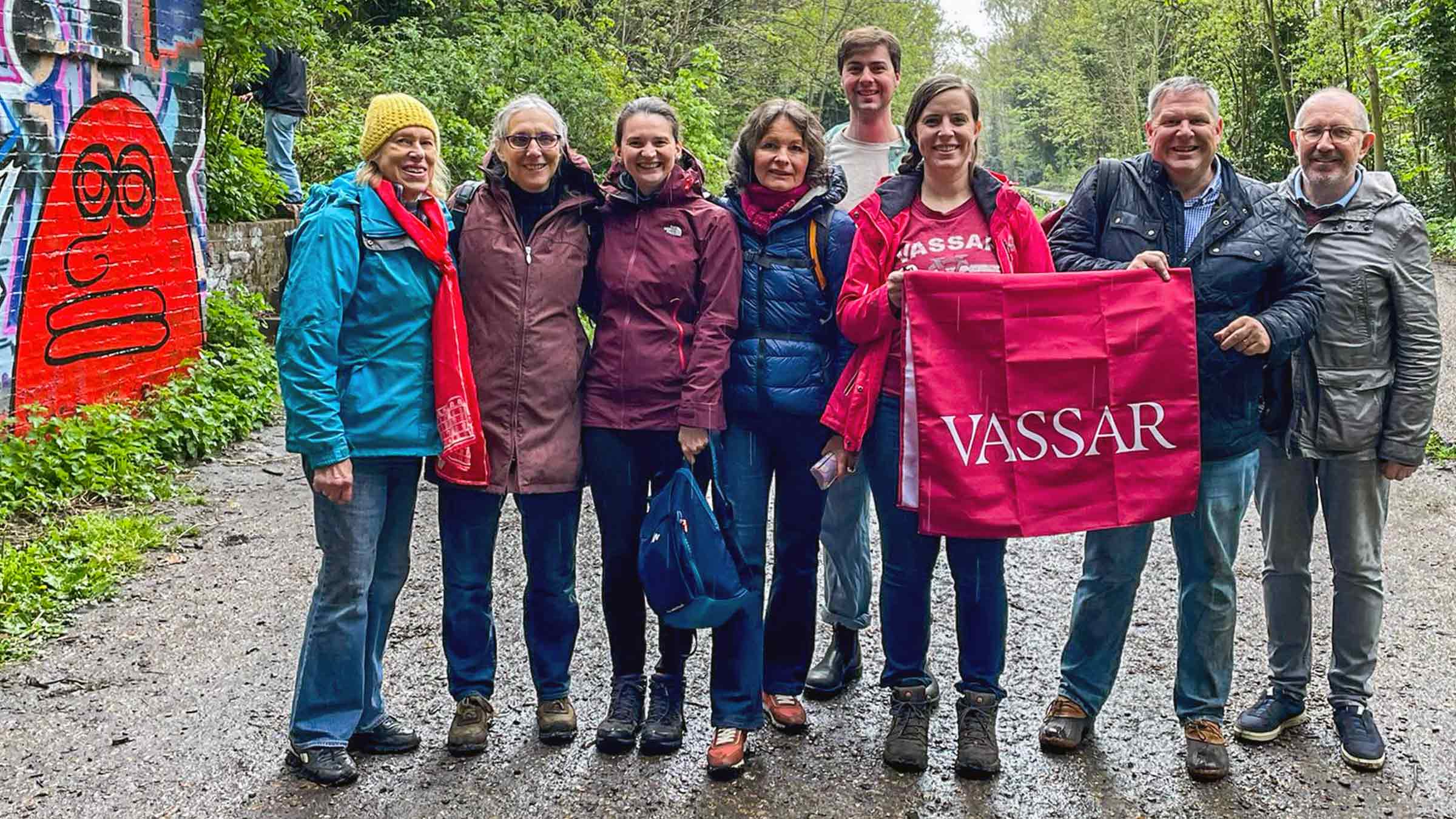 This year's effort was spearheaded by Andrew Solum '89, President of the Vassar Club of the United Kingdom. Solum and more than a dozen other club members spent several hours on April 22 clearing pathways and pruning vegetation from a conservation area in London called Parkland Walk. "We removed invasive saplings that are crowding out native plants, and chopped and processed fallen wood," Solum said. "Some put their building skills to good use by building a Stag Beetle loggery, a habitat to foster the UK's largest insect, which is in decline."
Alums from class years ranging from 1960 to 2018 took part in the project, Solum said, "and we celebrated our efforts afterwards in a local hostelry, raising a glass to honor Matthew Vassar and his spirit of service."
On the same afternoon, members of the Vassar Club of Atlanta partnered with Trees Atlanta, a nonprofit community group that protects and improves the community's urban forest. The volunteers removed invasive vines that were hampering the growth of trees and other vegetation. "About a dozen of us took part, and we were joined by some people from Emory University," said Atlanta Vassar Club President Becca Marco '05. "We are one of the smaller Vassar clubs, so it was great to take part in an event with a theme that is so in line with Vassar's culture."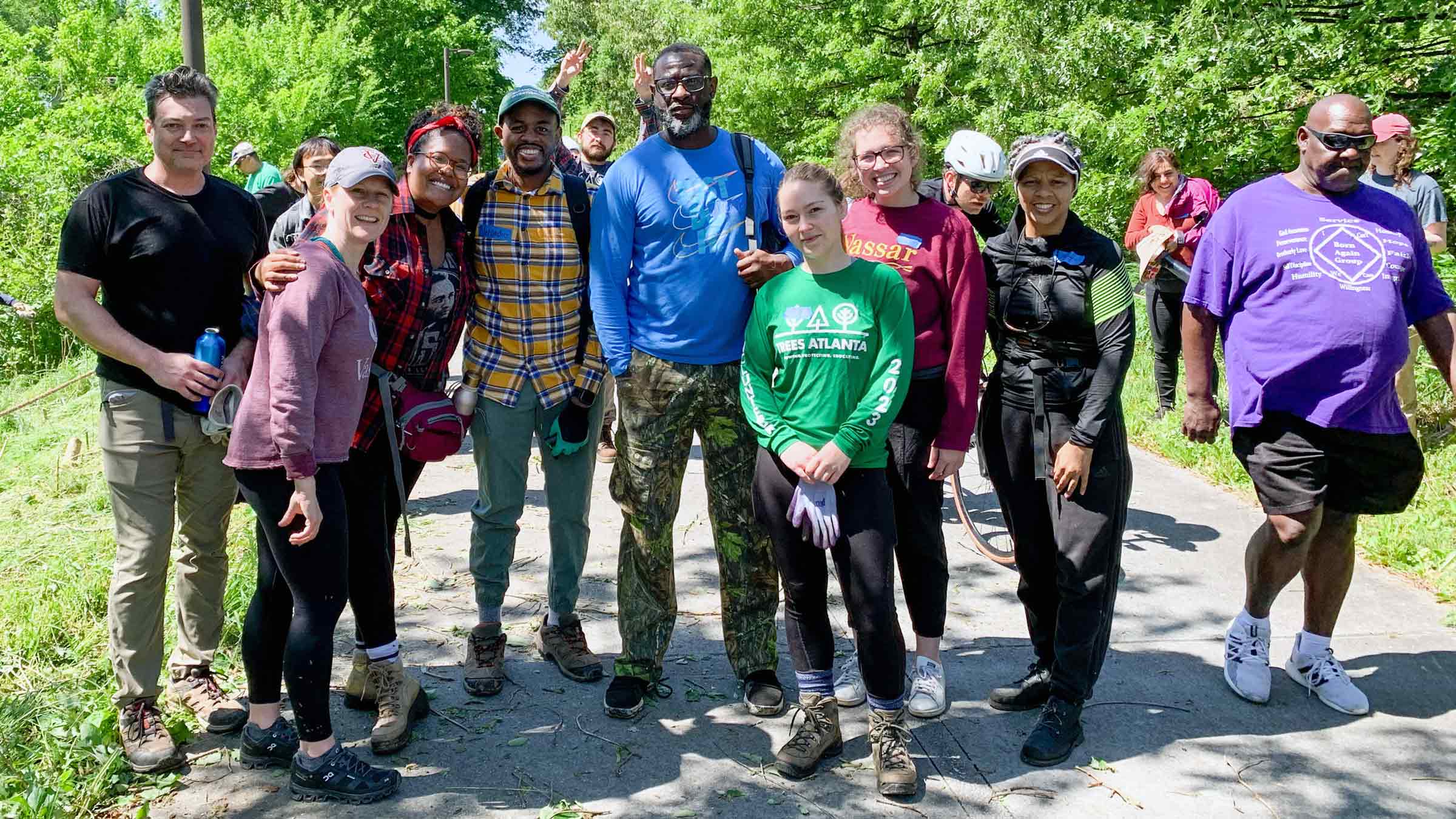 A couple thousand miles to the west, members of the Vassar Club of San Francisco joined forces with volunteers from Surfrider, a local conservation group that specializes in keeping the Bay Area's beaches clean. "We spent several hours collecting trash from the beach and celebrated with a picnic in Golden Gate Park," said Alexandria Dempsey '09, Vassar Club of San Francisco President. "We had volunteers from classes ranging from the early 1970s to 2021, so the event was a great way to unite alums from multiple generations."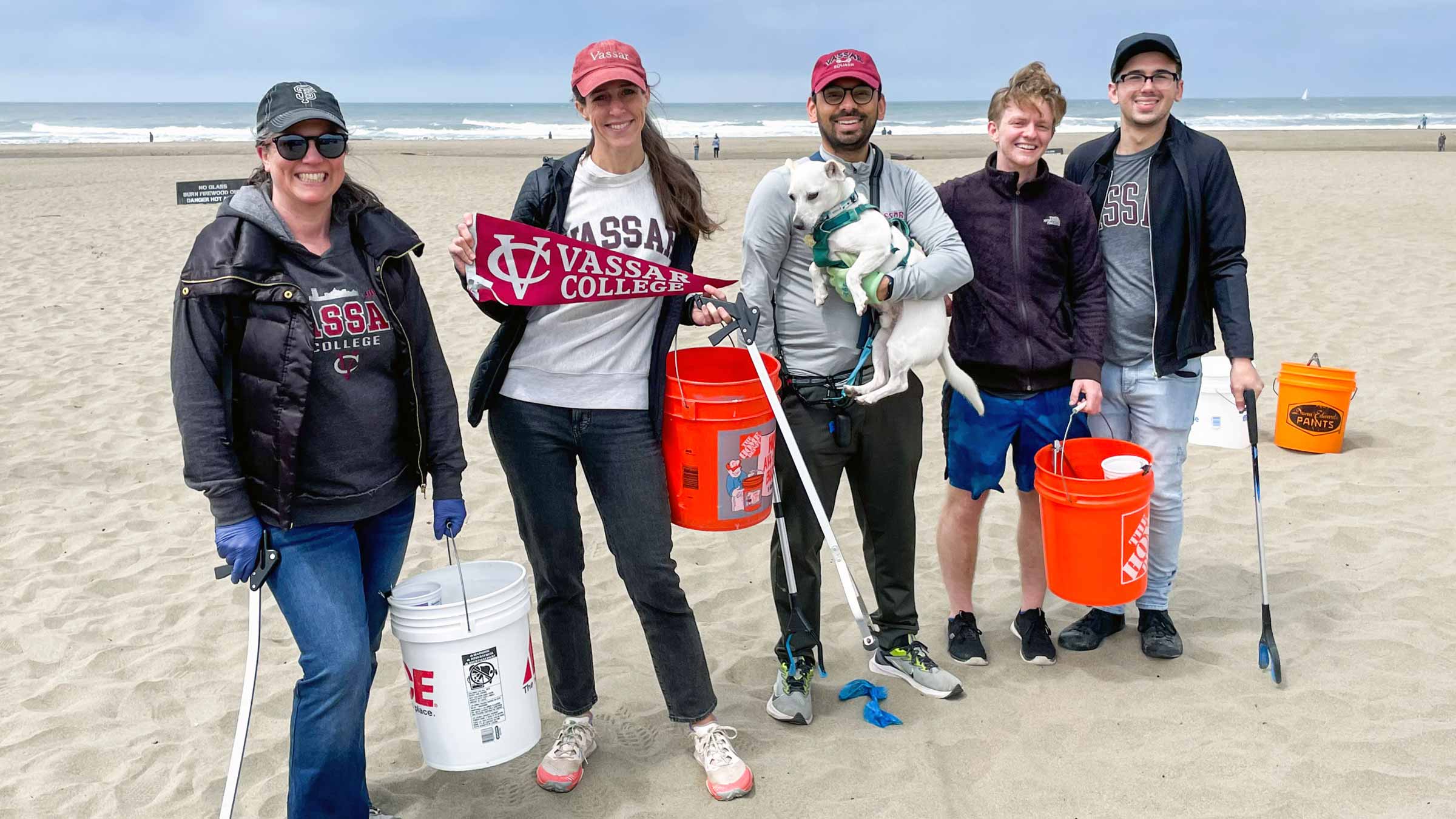 Since many alums live in parts of the country too remote to have a viable Vassar Club, Catherine Tall '86 hatched an idea to encourage her classmates across the country to take part in Vassar Serves by finding local conservation groups who were running Earth Day events. Tall said she had heard from eight members of the class of '86 who had done so. "This demonstrated that no matter where you are in the world, you can be of service," Tall said. "I hope leaders of other Vassar classes will choose to participate in this way in the future."
Solum said he was pleased, but not surprised, by the turnout of Vassar alums for this year's events. "The Vassar Serves initiative is a terrific way for Vassar communities around the globe to engage and to give back through service not just locally, but globally, and for the benefit of the planet," he said. "It gives us a chance to convene with a common goal, strengthening alum networks, fostering continuing education and to participate no matter where alums are located. I am humbled by the response of the Vassar community, and am forever thankful for the effort Vassar alums globally have made to ensure Vassar Serves 2023 has been a terrific success."
Other Vassar Clubs taking part in the event were:
Vassar Club of South Florida
Removal of litter and microplastics from a beach in Key Biscayne

Vassar Club of the Triangle (North Carolina)
Litter cleanup with Keep Durham Beautiful

Vassar Club of Washington, DC
Annual Earth Day cleanup with the Anacostia Watershed Society

Vassar Club of New Jersey
Earth Day event with Northeast Earth Coalition (NEEC)

Vassar Club of New York
Volunteer event with Prospect Park Alliance

Vassar Club of Chicago
Belmont Harbor Cleanup with the Chicago Yacht Club

Vassar Club of Boston
In-person work project with the Charles River Cleanup Project and a remote Pollinator Seed Planting (mailing out seeds to alums)

Vassar Club of San Diego
Joined the Tijuana River Valley Community Garden's Annual Spring Clean-up

Vassar Club of Washington
Planting and mulching a newly constructed salmon habitat in partnership with the North Olympic Salmon Coalition and the Jamestown S'Klallam Tribe

Vassar Club of Hartford
Volunteer in KNOX's Community Gardens

Vassar Club of Texas
Day of service with the Galveston Bay Foundation, conducting a beach cleanup and submitting science data on plastic pellets via Nurdle Survey
Find you regional club on our Social Media Directory!