Alum Donates World War II Vassar Victory Keepsakes to Special Collections
Photos Alysse Pulliam and Courtesy of Katherine Bouton '69
On a rainy afternoon on May 3, 1945, Vassar Student Association President Elizabeth "Betty" Gatchell '45 took aim at the bow of a new naval vessel in a Maryland shipyard and christened it with a bottle of champagne. According to accounts in the Miscellany News, the bottle "hit the bow squarely and champagne flew in all directions."
Seconds later, the 10,800-ton troop carrier Vassar Victory slid smoothly into the harbor. And 78 years later, that broken champagne bottle and a commemorative pin presented to Gatchell that day are now preserved as a part of Vassar history in the "realia" collection of the College's Special Collections. These priceless keepsakes of Vassar's war effort were donated to the College by Gatchell's daughter, Katherine Bouton '69.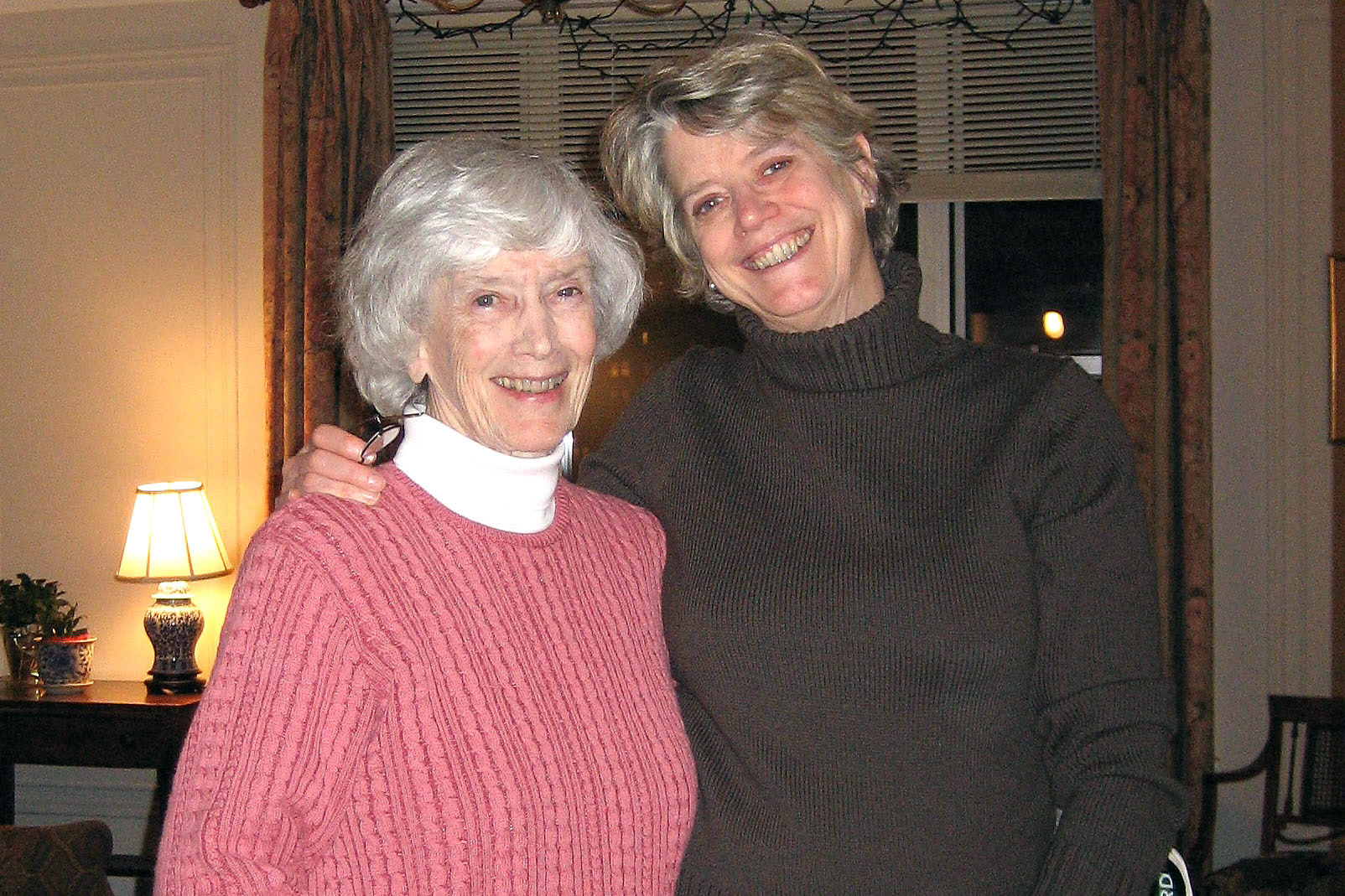 Bouton and her siblings had always known the wooden box containing the champagne bottle and a gold commemorative pin were part of her mother's history. In 2019, at Vassar in preparation for her 50th reunion, she gave the box to the college. This fall, she added the pin. "It's fitting that the champagne bottle and the pin are back together again," she said. 
Bouton said she decided to donate the pin to Vassar after a recent Vassar Club luncheon in New York City. President Elizabeth H. Bradley addressed the group, and it gave Bouton the idea to donate the pin, which she was wearing that day, as well. "I know President Bradley often wears beautiful pins, so I hope she wears it a few times before it goes into Special Collections," Bouton said.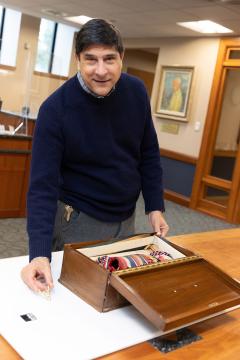 Ronald Patkus, Head of Special Collections and Adjunct Associate Professor of History on the Frederick Weyerhaeuser Chair, said most of the items in Special Collections consist of books or documents, but the "realia" section of the collection contains objects from Vassar's history, including a pair of Matthew Vassar's eyeglasses. "Preserving these objects is another way of chronicling Vassar's history, too," Patkus said.
Vassar Victory was one of more than 80 Victory-class ships—faster, sleeker versions of the former Liberty-class vessels, built toward the end of World War II, and one of about 20 named after American colleges and universities. Gatchell and nine other Vassar students were invited by the Navy to take part in the christening, and the students later marked the College's "sponsorship" of the ship by donating 200 books to the ship's library. Other members of the Vassar contingent at the shipyard that day were Sarah Harding, President of the Class of '46; Katharine Ann Campbell '45; Ann Haynes '45, President of Davison House; Mary Wetzel '45, President of Main South; Anita Schuster '45; Smokey Rowley '47, and Miscellany News reporter Emily Malino '46.
Patkus and Library Specialist Dean Rogers conducted some research on Vassar Victory and have placed documents on this ship's curious history in Special Collections. According to those documents, the ship's first task was ferrying German POWs back to Europe to be repatriated, and then bringing American GIs home. But in 1946 it was sold to an Italian cruise ship company, refitted for commercial use, and re-christened the SS Castel Bianco. In 1957 it was sold to a Spanish cruise line and re-christened the SS Begona. 
The Begona carried passengers, including a shipload of Greek brides to Australia, but it sailed mostly in the Canary Islands and the Caribbean. On October 4, 1974, it suffered massive engine failure and was towed to safety to Bridgetown, Barbados. The ship returned to Spain in 1975 where it was broken up for scrap.
Coincidentally, Bouton's father, Clyde Bouton, who had joined the Navy as an ensign in 1942, and would marry Betty Gatchell in June 1945, also endured a mishap at sea that ended in Barbados. In January, 1943, his ship, a decoy sent ahead of a convoy, was sunk in the Atlantic by German torpedoes.  Bouton and his fellow crew members spent 10 days in two lifeboats, finally landing safely in Barbados.