Alum Assumes Post as Vassar's First General Counsel
Photos by Grace Adams Ward '24
Shay Humphrey '91 says one of the first classes she took at Vassar in 1988 taught her to think like a lawyer. "I chose a first-year writing course given by the History Department, and it was eye-opening," Humphrey recalled. "We were asked to analyze how valid the premise of someone's arguments were. It was the first time I learned how to think instead of just absorbing information and parroting it back."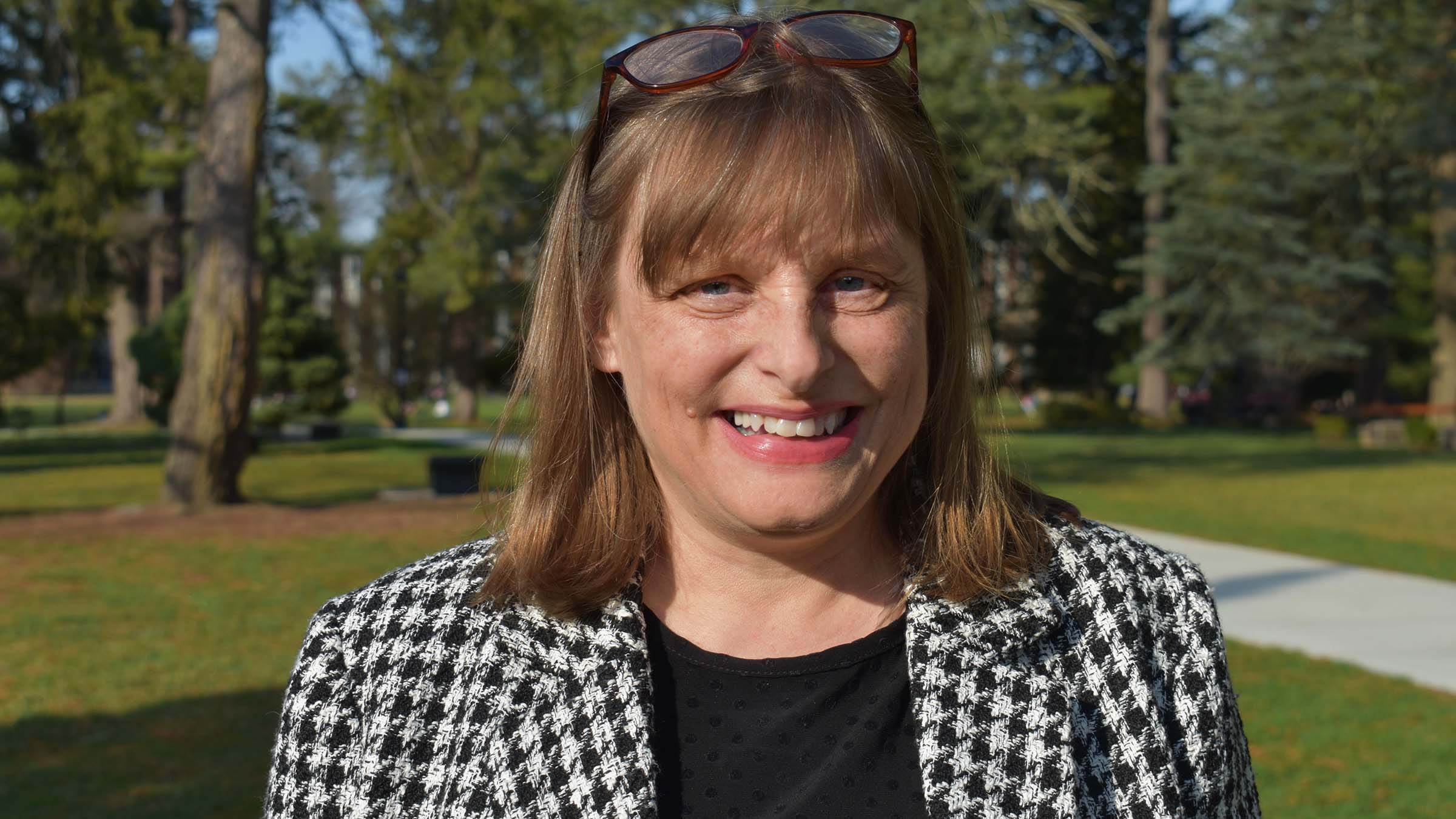 Thirty-five years later, Humphrey is returning to the College as its first full-time general counsel. She began her duties April 3, leaving the Newburgh, NY law firm of Catania, Mahon, & Rider, where she has worked since 2014. She is a graduate of the University of Florida College of Law and has been practicing law in New York since 2002. She was hired following a nationwide search conducted by a committee of faculty and administrators.
President Elizabeth H. Bradley said the Board of Trustees had been considering creating the post of general counsel for several years. "There's an unofficial idea that when a college's endowment reaches a billion dollars, you're probably engaged in enough diverse activities to warrant having in-house counsel," Bradley said. "We reached a billion in 2019, but then the COVID-19 pandemic happened, so we put off creating the position for a couple of years."
The search began last September, Bradley said, and while several excellent candidates emerged, "Shay really stood out from the rest. As a Vassar grad, she has an understanding of the culture here, and she has an agility of intellect and a genuine desire to partner with our faculty and our students."
Bradley said one of Humphrey's first tasks will be to review and codify the College's policies and procedures, particularly those regarding risk management. Humphrey will also help staff the Board's Audit Committee and provide advice on minimizing financial risks, the president said.
Bradley said she was glad the College would have the benefit of Humphrey's guidance when the Supreme Court issues a ruling, expected soon, on a case challenging colleges' right to consider race and ethnicity in their admissions decisions. "I'm relieved we will have an in-house general counsel who understands how to advise us in sustaining our commitment [to affirmative action] in ways that are in line with court decisions," she said.
Humphrey said she was eager to begin her new job, and she planned to start by visiting every department at the College to familiarize herself with issues affecting each of them. "Since I'm starting a job that hasn't existed before, I'll spend a while looking at the landscape and deciding how to tackle things," she said. "But I think it will be a big asset to the College to have a general counsel who can look at the whole picture and see the intersection of functions throughout the College," she said. "I'm sure I'll be dealing with some real estate issues to start, but in any organization, needs and priorities change all the time."
Bryan Swarthout, Vice President for Finance and Administration, said he was grateful to have a legal expert on staff. "Shay has extensive expertise in addressing legal and compliance issues, so having her here as part of the College's leadership team will allow the rest of us to feel more comfortable in advancing the College's mission focusing on our own expertise," Swarthout said.
Wesley Dixon, Deputy to the President and Secretary of the Board of Trustees, said he was looking forward to working with Humphrey. "I am excited to have in Shay a partner who will work with me to ensure that the Board of Trustees continues to display a high quality and high integrity standard of governance in its work," Dixon said.
A native of Lake George, NY, Humphrey has always had a love for the outdoors and enjoys paddle boarding in local streams. And her lifelong love of history prompted her to become an amateur genealogist, creating family history books for family and friends.
And of course, she's looking forward to spending time on Vassar's beautiful campus. "I've come back for reunions and Founders Days, and I wandered the campus with my kids when they were little," she said, "but it will be nice to be here every day."
When she took the job, Humphrey said she was reminded of something one of her favorite drama professors, the late Thaddeus Gesek, had said to her when she told him she had decided to go to law school. "He knew I was also interested in education and said he'd hoped I'd pursue that path instead," she said. "I think he'd be happy to know my career has finally brought me back to Vassar."