ALANA Cultural Center Rededicated in Honor of Its Architect—Jeh Vincent Johnson
Speakers say the late architect and Senior Lecturer was an inspiration and mentor to many.
More than 150 members of the Vassar community gathered on the campus November 19 to pay tribute to the life and career of beloved architecture professor Jeh Vincent Johnson in a way that his family said would have made him proud.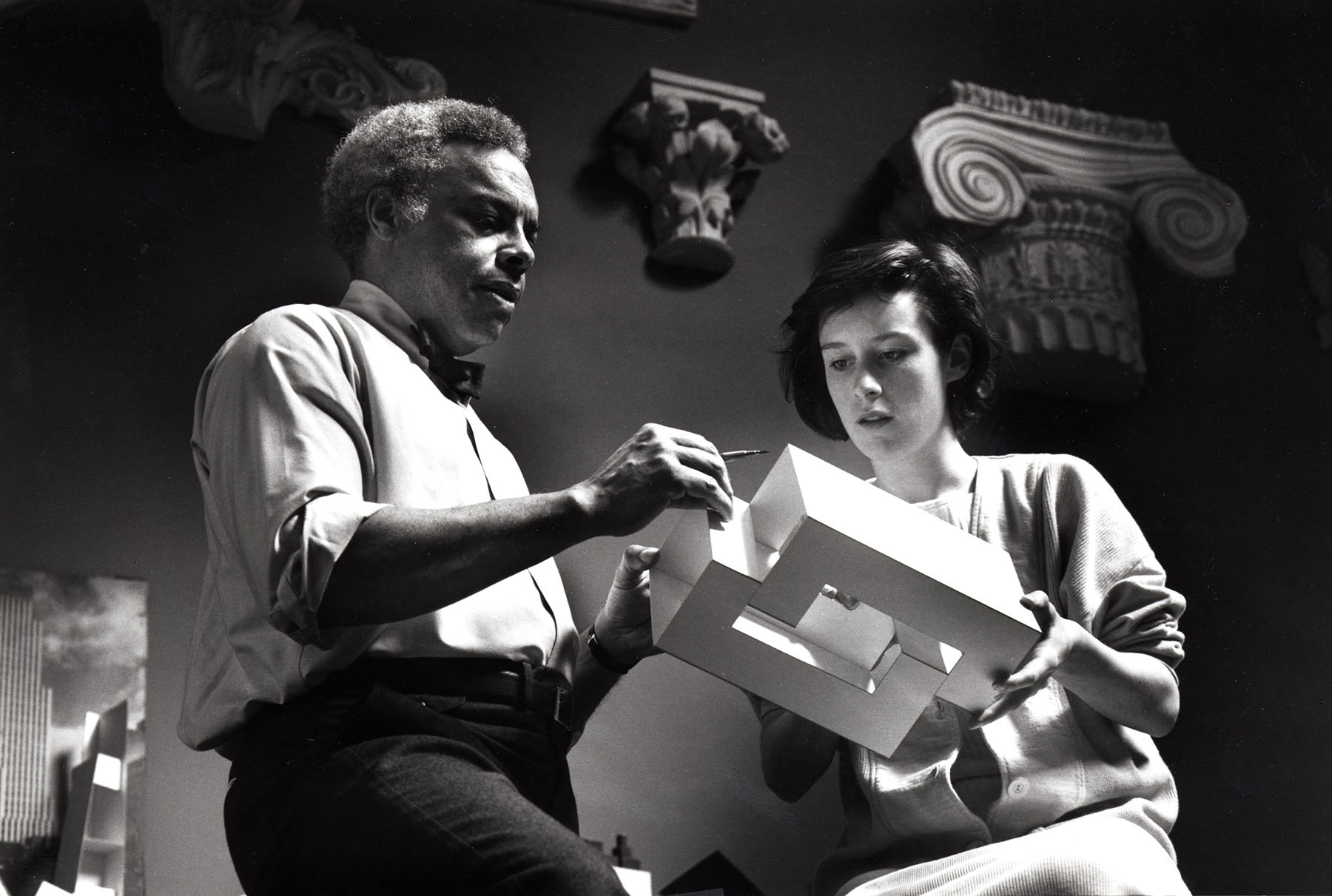 In an hour-long ceremony, the College formally acknowledged the naming of the Jeh Vincent Johnson ALANA Cultural Center, the first building on Vassar's campus to be named for an African American. "The naming of this building in honor of Jeh Vincent Johnson is a tribute to him and a long overdue public and permanent recognition of the contributions of African American faculty, students, administrators, staff, and alums," President Elizabeth H. Bradley told those gathered in front of the recently renovated building. "Jeh Johnson was a beloved teacher, thoughtful mentor, inventive architect, and trailblazer who always lent a hand to others," Bradley added. "Having the Jeh Vincent Johnson ALANA Cultural Center on campus is so fitting, so inspiring to us all—now, tomorrow, and for generations of Vassar students, faculty, and staff to come."
Watch a video about the rededication.
Professor Johnson, who taught at Vassar from 1964 to 2001, maintained an architecture practice in Poughkeepsie and designed several buildings on the campus, including the ALANA Center. He passed away in January 2021. His son, former U.S. Secretary of Homeland Security Jeh Charles Johnson, attended the ceremony with members of his family, including his mother, Norma Johnson. "I know my father would have been so proud and so pleased—he would have been over the moon— to receive this honor," Secretary Johnson said. (View his speech.)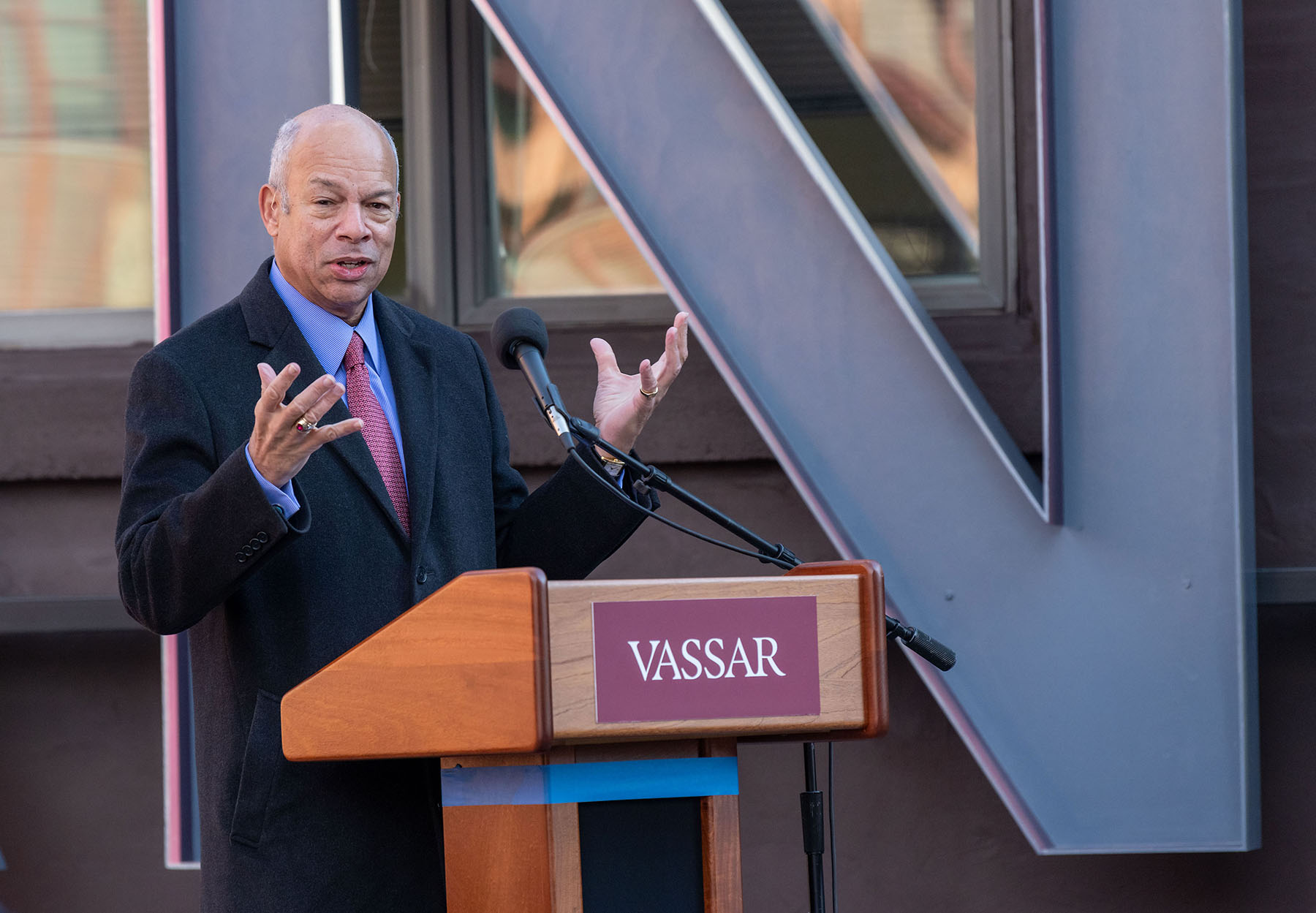 The Center's recent renovations were designed by architect Mario Gooden. They include a large, three-dimensional sign carrying the Center's new name, a central air-conditioning system, new windows, fresh paint, new furniture, refinished flooring, and a new kitchen. The next phase of renovations, which will include enhanced outdoor space and reconfiguration of the lower level of the building, will begin following a new round of fundraising.
Gooden, who is African American, said he was inspired by Johnson and other Black architects who had founded the National Organization of Minority Architects. "Jeh and others in that group were my role models," Gooden said. "Like Jeh, I went to Columbia, and like Jeh, I am an educator. It's a sheer delight for me to be part of this contribution to Jeh's memory, and I am grateful to Vassar for the trust you have placed in me and my design team."
Funds for the first phase of the renovation project were triggered by a matching-gift challenge issued by three alums—Paula Williams Madison '74, Lucey Bowen '68, and Karen Clopton '80 P '19 '22—who said they revered Professor Johnson when they were students.   
Prior to the ceremony, Bowen said Johnson had inspired her while she was at Vassar and continued to do so long after she graduated. "In 1966, my sophomore year, Professor Johnson's teaching activated the connections between my drawing hand, my eyes, and the art I was studying," she said. "That skill became the foundation for the art I continue to make. I see the renamed center as a beacon, serving, as he did, to lead us into a better future."
Sharing the podium, Clopton and Eric Wilson '76, Co-Chair of the African American Alumnae/i of Vassar College (AAAVC), welcomed the Johnson family. Clopton noted that the ALANA Center has acted as a sanctuary for generations of Vassar students of color and recalled that Jeh Vincent Johnson had been instrumental in the planning of a project spearheaded several years ago called Buildings and Belonging; it honors the presence and contributions of African Americans throughout Vassar's history.
Karen Van Lengen '73, who considered Johnson a mentor, described her experience in Johnson's classroom as "pure magic for so many of us." Van Lengen, who went on to enjoy a successful career as an architect, called the renaming of the ALANA Center "an important milestone in Vassar's history. As we gather for this celebration, we are reinvigorated by his vision."
Associate Professor of Art Yvonne Elet, who collaborated with students on a research project that chronicled Professor Johnson's career and contributions to the College, said she was "honored to serve as a catalyst to tell Jeh's story and describe his legacy in the field of architecture and African American culture." An exhibit of Johnson's work, curated by Elet with help from art preparator Amy Manso and Ron Patkus, Associate Director of the Libraries for Special Collections, was on display inside the Cultural Center.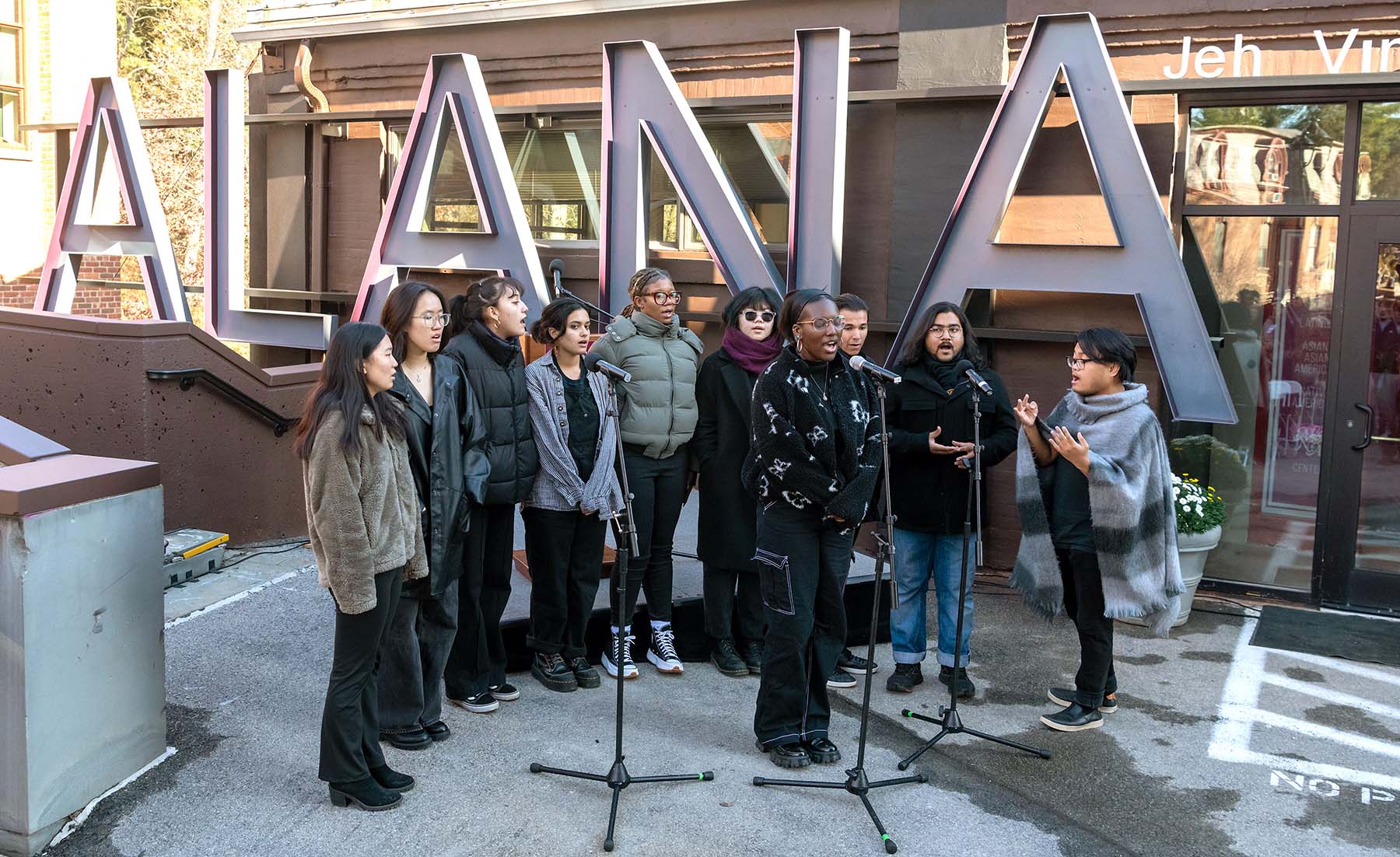 Alysa Chen '23 told those who had gathered for the event that the Jeh Vincent ALANA Cultural Center provided refuge and respite when she was feeling lonely and alienated. "It gives us a space to cry and a space to comfort others who are crying," said Chen, a programming intern at the Center. "I almost transferred from Vassar in my first year, but the ALANA Center picked me up and inspired me to be the student leader I am today."
The ceremony's final speaker, Antoine Robinson '18, said he had been inspired by Professor Johnson's successors at the College to pursue a career in architecture. He is currently a junior designer at the architecture firm Kohn Pedersen in Boston and is a master's degree candidate at the Harvard Graduate School of Design.
Like Chen, Robinson said he found refuge at the ALANA Center, having spent some of his earliest days at Vassar at the ALANA Center, stating, the Center is "still a place that I want to see on every campus, I want every campus to have a space like that," and that there are "still more ALANA Centers that need to be built."
Vassar alum Ken Miles '07, who attended the dedication, described the Center as a home outside of his dorm for himself and his peers, serving as a gathering space and reminder that "space matters, place matters." Emphasizing the importance of Johnson's role in the Center, Miles said, "To understand the role that Jeh Vincent Johnson had in shaping that building, is really a touching reminder of the quiet influence that he had and the care that he always exuded."