Drew Minter
Senior Lecturer in Music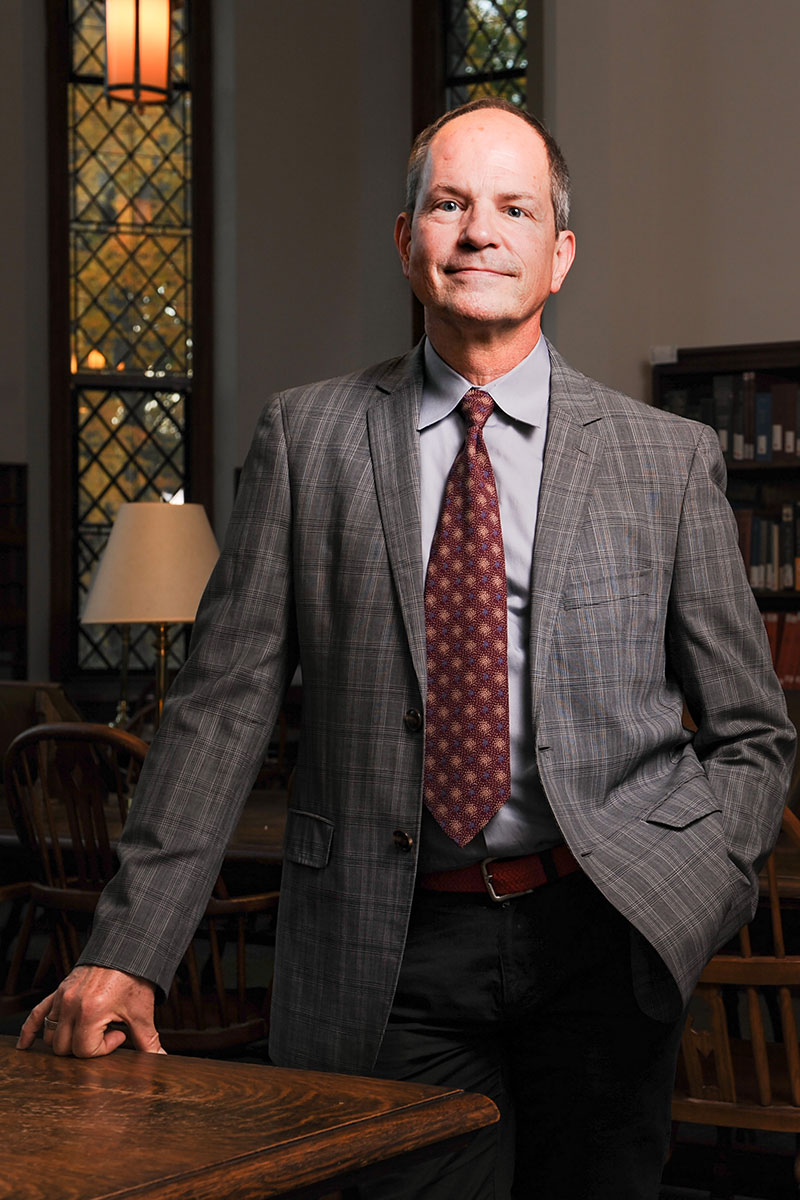 In addition to numerous workshops in the vocal and dramatic performance of baroque music, Mr. Minter has taught voice for the past ten years at Vassar College, where he also directs the Vassar Opera Workshop and conducts the Vassar Madrigal Singers. He has taught since 1989 at the Amherst Early Music Institute. In addition to an active singing career of his own, he teaches frequent masterclasses in opera and oratorio; in recent years these have taken place at Indiana University, Boston University, the University of Massachusetts, West Chester University and the Crittendon Opera Workshops in Boston.
Voice, Madrigal Singers, Opera Workshop
BS, Indiana University. Diploma in Lieder and Oratorio from the Hochschule der Musik in Vienna, Austria.
Senior Lecturer Drew Minter has been on the music faculty of Vassar College since 1999. In his time at the college, he has taught singing, the Vassar Chamber Singers (formerly the Madrigal Singers), and the Vassar Opera Workshop. Other courses he has taught have been classes in the history of opera and of German song, as well as Feldenkrais Awareness Through Movement.
For four decades, Drew was regarded as one of the world's leading countertenors, in a repertoire that encompassed opera, oratorio, chamber music and recitals. He was especially associated with early music groups, some of which he cofounded, such as Ensemble V/I, TREFOIL, My Lord Chamberlain's Consort and The Newberry Consort, with which he sang for 25 seasons in Chicago. In addition, he sang for many seasons as a regular guest of ARTEK and The Folger Consort. He is presently a member of Severall Friends, an early music ensemble out of Santa Fe, NM.
Drew appeared in leading roles with the opera companies of Brussels, Toulouse, Boston, Washington, Santa Fe, BAM, Wolf Trap, Glimmerglass, Nice, and Marseille, among others. A highly regarded specialist in the works of Handel, he appeared in leading roles at the Halle, Karlsruhe, Maryland and Goettingen Handel festivals. He sang with many of the world's leading early music orchestras and ensembles, including Les Arts Florissants, the Handel and Haydn Society, Philharmonia Baroque Orchestra, Freiburger Barockorchester, and as a guest at festivals such as Tanglewood, Mostly Mozart, Ravinia, Regensburg, Utrecht, Brooklyn Academy of Music's Next Wave, Edinburgh, Spoleto and the Boston Early Music Festival, among many others.
Drew made over 70 recordings in his career for London, Harmonia Mundi, Hungaroton, and other record companies. He wrote and reviewed for many years for Opera News, Oxford Journals, and others.
Drew Minter is a lauded opera director. From 2006-2011, he was one of the co-founders and the artistic director of Boston Midsummer Opera. He also directed the operas at the Goettingen Handel Festival for five years. Since then he has directed productions for Caramoor, Lake George Opera, St. Luke's Orchestra, Opera Aperta, the Boston Early Music Festival, Amherst Early Music, the Five Colleges/Northampton, Boston University's Opera Institute, Manhattan School of Music, Mannes School of Music, Apollo's Fire and Haymarket Opera. His production of The Play of Daniel, which was originally created as a fiftieth anniversary production for The Cloisters museum of the Metropolitan Museum, was a popular attraction for a number of years during the New York Christmas season.
Drew teaches many workshops in the singing and acting of opera. He has taught each summer since 1989 for the Amherst Early Music Festival, and directed their annual opera for twenty years. Other summer academies where Drew has taught and directed have included La Lingua della Lirica (now Classical Lyric Arts), Haymarket Opera, and Madison Opera. He has been a guest instructor and taught masterclasses at countless universities and colleges. In addition to singing, Drew brings his background in movement and breathwork to these workshops, including the Viewpoints acting work and as a practitioner of the Feldenkrais Method.
During the pandemic, Drew has been teaching lessons and classes in the Feldenkrais Method online.
BS, Indiana University-Bloomington
At Vassar since 1999
Research and Academic Interests
Voice
Madrigal Singers
Workshop
Departments and Programs
Courses
CLCS 183 Vassar For Veterans
MUSI 58 Chamber Singers
MUSI 63 Voice
MUSI 163 Voice
MUSI 263 Voice
MUSI 363 Voice
MUSI 380 4th Year Instruction
Photos