Vassar For ActionAdam Murphy '10

: Confronting a History of Racial Injustice

Seeking Justice for Death Row Prisoners and Sharing a History That Needs to be Confronted
Adam Murphy '10, who works as a lawyer for legal icon Bryan Stevenson's Equal Justice Initiative (EJI) in Montgomery Alabama, says he's energized and encouraged by the widespread protests against racial injustice that are taking place on the streets of virtually every American community.
"The protests are a response to a country that has not confronted its history of racial inequality," he says. "They're shedding light on the injustices we see in our work every day."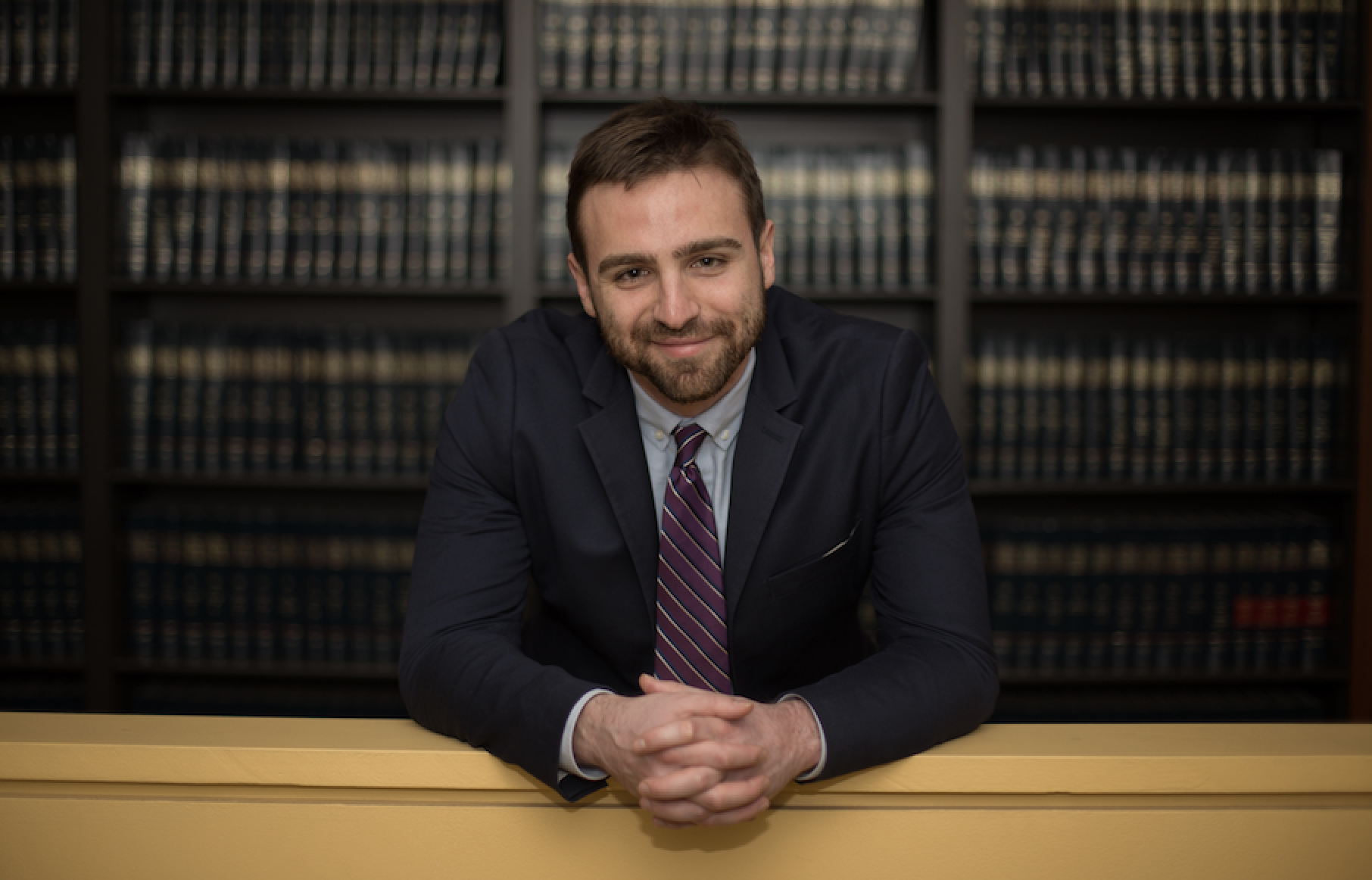 Murphy has been on the front lines of this struggle since he joined the organization three years ago. He says he loves his job because it not only affords him the opportunity to fight for justice in the courtroom but also enables him and his colleagues to "educate and fill the space of historical silence" through EJI's outreach programs.
Murphy represents people on Alabama's death row, including children who have been sentenced to die in prison, and advocates for clients who have re-entered society. He also supports EJI's historical research, community education, and memorialization initiatives.  "On a typical day, I might be visiting a client on death row in the morning and then speaking to a school group in the afternoon and reviewing historical records in the evening," he said.
Murphy was raised in Brooklyn by parents who oriented him to social injustice (his mother was a social worker and his father was a labor organizer), and he was thinking about a career in the law when he enrolled at Vassar in 2007. "Vassar was the perfect place for me—a top-notch academic institution that afforded me the opportunity to play collegiate baseball," said Murphy, who was a centerfielder and a co-captain of the team in his senior year.
It was also in his senior year that his decision to pursue a law career fully crystallized. He wrote his senior thesis about a United States Supreme Court case called McCluskey v. Kemp, in which the Court held that "racial discrimination in the administration of the death penalty is inevitable." Murphy said he wondered how the justices "could have reconciled such a ruling as they sat inside a building with 'Equal Justice Under Law' engraved in marble." In seeking to answer that question, he interviewed the lawyer who argued the case at the Supreme Court and visited the Supreme Court Library and the Library of Congress to conduct research for his thesis. "The entire experience animated my desire to pursue a career in the law," he said.
Murphy said two courses taught by Professor of History James Merrell had instilled in him the importance of rigorous and meticulous scholarship. "Professor Merrell taught us to go the source and never leave a stone unturned," he said. "Learning to embrace that level of fastidiousness and diligence to detail is required of an effective lawyer."
Murphy said his social consciousness, particularly about incarceration in America, was heightened by a course he took on the carceral state taught by Professor of Sociology (and now Dean of the College) Carlos Alamo-Pastrana. "The course encouraged us to re-imagine public safety," he said. "the critical questions many people are engaged with at this moment were the precise questions Professor Alamo-Pastrana posed to our class."
"I had the instincts," Murphy said, "but these experiences at Vassar gave me the language to articulate them and shaped my career trajectory."
Murphy took a job as an investigator in a New York City Public Defender's office after he graduated from Vassar and enrolled in New York University Law School in 2014. While he was in law school, he and a fellow law student founded the Washington Square Legal Services Bail Fund, which provides cash bail for people charged with low-level offenses who are too poor to afford their freedom. Murphy became a licensed bail bond agent and spent his third year of law school, running to jails throughout New York City to post bail for clients who were "accused of crimes of poverty—for example, taking baby diapers from large department stores, scarves in the winter, or water in warmer months. He said he often thought back to the lessons he had learned in Professor Alamo-Pastrana's class.
It was while he was in law school that Murphy enrolled in Bryan Stevenson's death penalty clinic in Alabama. Stevenson hired him as one of Equal Justice Initiative's 25 lawyers when he graduated from law school in 2017.  Founded in 1989 by Stevenson, whose story was dramatized in the 2019 Hollywood film Just Mercy, the EJI provides legal representation to people who have been illegally convicted and unfairly sentenced and works with communities that have been marginalized by racism and poverty. The organization recently opened the Legacy Museum: From Enslavement to Mass Incarceration and National Memorial for Peace and Justice, which remembers and honors the thousands of victims of racial terror and lynchings perpetrated against black people in the United States between 1877 and 1950.
Murphy said these cultural spaces and other community remembrance projects advanced by EJI serve as a means of educating the public about issues of racial injustice. "Visiting these spaces to witness a history so often obscured in high school curricula and dominant consciousness is a powerful first step in the sequential process of truth and reconciliation," Murphy said. "Professor Stevenson often says you can't make decisions from a distance; you have to get close to a problem to solve it."
Murphy said he has had the privilege of bringing others to his work by participating in speaking engagements with former EJI clients who have been freed. He has worked closely with Anthony Ray Hinton, a man wrongfully convicted of two murders in Montgomery, AL in 1985. Hinton spent nearly 30 years on Alabama's death row before EJI won his release in 2015. 
"Working with Mr. Hinton has been the privilege of my life," Murphy said. "Lawyers often feel the need to speak, but when you listen to Mr. Hinton tell his story you realize the importance of listening and working to elevate the voices of the people most directly affected by the crisis of incarceration."
Murphy also learned the importance of letting the National Memorial for Peace and Justice tell its stories.  He was in a local YMCA in Montgomery recently when another man noticed the Equal Justice Initiative logo on his tee-shirt. The man told him that when he heard that the National Memorial was opening, he opposed it. "He told me he thought the museum would open old wounds and make things more difficult," Murphy said. "He said he was born in the early 1940s and was one of the people carrying signs that said 'Segregation today, segregation tomorrow, segregation forever.'"
Then the man told him he had visited one of EJI's sites and that it had changed him in a dramatic way. "He shook my hand and said, 'Sometimes you need to open a scab for the wound to heal,'" Murphy said.
He said the experience had exemplified one of EJI's tenets. "A lot of people think the law is a tool for justice, and it can be," Murphy said. "But what we see in our work is that narrative and social change often precipitates legal change."