History of the Vassar Farm and Ecological Preserve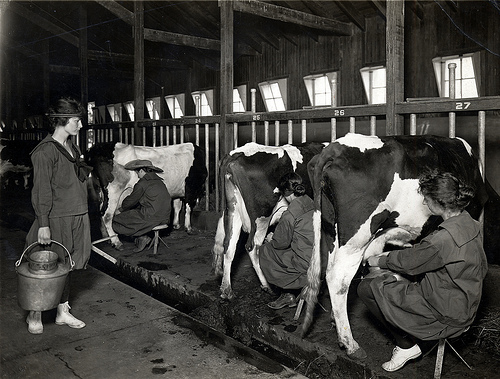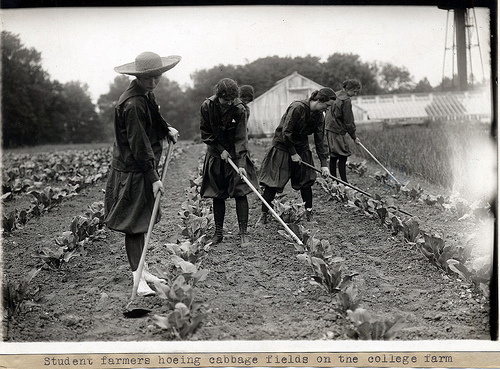 In 1895, the first 200 acres were purchased from Vassar Brothers Hospital to solve a problem. Up until then, Vassar had been pumping its sewage into the Casperkill Creek but another plan was needed. About the same time, Ellen Swallow Richards, a Vassar graduate of the class of 1870 and an expert in water chemistry and sanitation, suggested that the college should create a settling field and filter beds to handle the campus waste. This was considered an innovative approach to sewage disposal at the time, and nutrients from the system were said to dramatically increase corn yield. Remnants of the filter beds are still visible today in the northwest corner of the Ecological Preserve.
In 1911, Augustus and May Elton Davies deeded the southern 300 acres of the current preserve to the college as a gift. These two large parcels were then consolidated with some smaller pieces of land to become a single tract, and Vassar's farming operation was relocated here. According to the 1918-19 Vassar College Catalogue, the farm included "a model dairy and poultry farm, greenhouses, stables, storage barns and farm houses....[It] produces vegetables for the college table, and grain and fodder for the cattle and poultry. The dairy supplies milk and cream for the college from a tested herd of Holstein cattle."
In World War I and again in World War II, extra help during the summer months was in short supply, so Vassar girls worked as farmhands. The first 12 girls who worked on the farm in the summer of 1917 as part of this patriotic experiment were called "Farmerettes." They put in 45-hour weeks at 17 ½ cents an hour doing "every kind of work that the men tried, with the exception of cleaning the stables." They chopped wood, milked cows, ploughed fields, and hoed the rows. This was such a novel accomplishment that the Vassar Farm Unit was invited to present a "live exhibit" at the Eastern States Exposition, a ten-state agricultural fair, and five girls were excused from class for ten days to demonstrate their farming skills at the fair.
By the mid 1950s, the farm was no longer a cost-efficient means of providing food for the college, and the farming operation was shut down. In 1973, a group of faculty led by Margaret Wright of the Biology Department drafted a proposal for a center of ecological study on the Vassar Farm. In 1976, the college adopted a mixed-use plan that designated 275 acres as an ecological preserve for conservation and research. In 1978, the first field laboratory—a modified mobile home—was installed and the beginnings of a trail system were established. Today, 416 acres are actively managed as a preserve.
Read more about our history at the Vassar Encyclopedia