Yves Dhar
Adjunct Artist in Music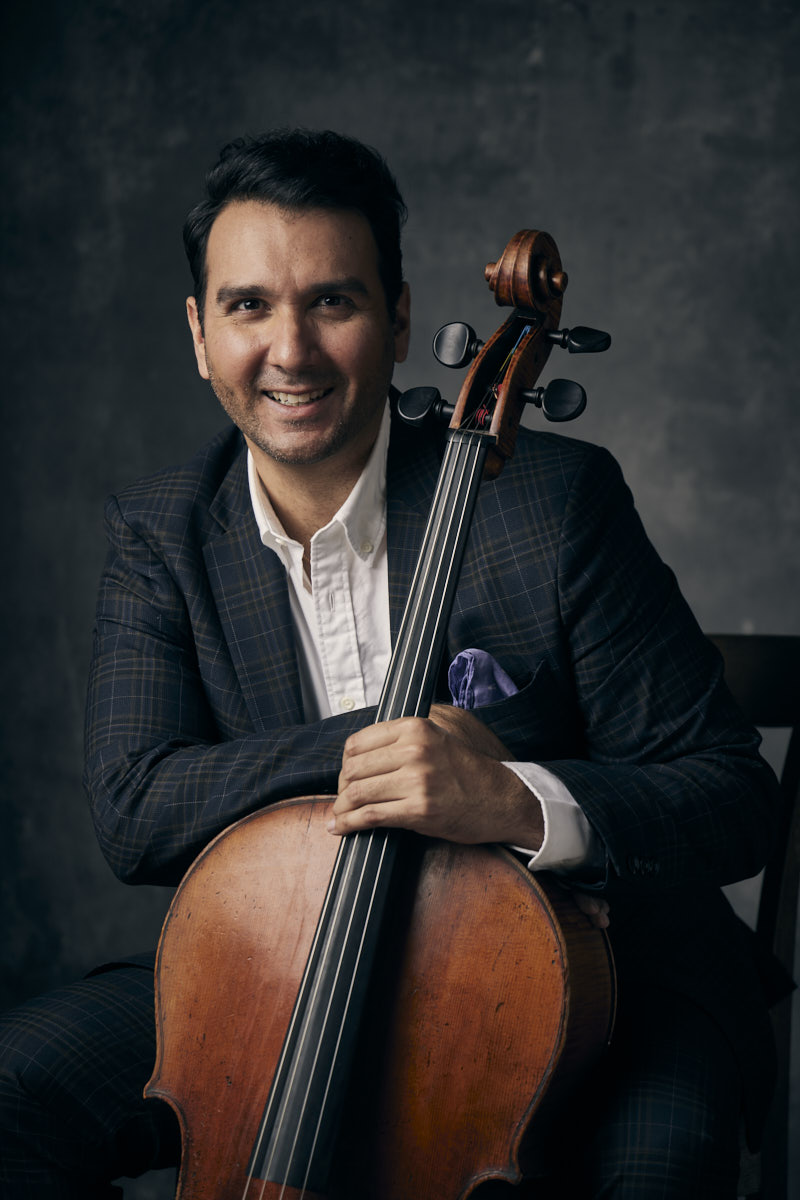 Captivating audiences with his lush tone "that might be described as something akin to rich old wood"
(Boston Musical Intelligencer), YVES DHAR has earned a worldwide reputation as a "technically and interpretatively outstanding" (STRAD) cellist. Known for his charm, innovation, and innate ability to connect with audiences, the Franco-American is invited by leading orchestras, presenters and arts organizations to perform on the world's major stages.
In 2021/22, Dhar returns to stage with a focus on premiering new projects developed in quarantine during the COVID-19 pandemic. At the forefront of these fresh productions is the ground-breaking Automation, a cinematic concerto for cello, halldorophone, electronics, and visual projections, composed by Adam Schoenberg, to be premiered with Teddy Abrams and the Louisville Orchestra in May 2022. Automation features Dhar as live soloist pitted against a holographic AI cellist as the work explores the complex relationships between humans and artificial intelligence.
Dhar also co-produced Strings of Life, a work for solo cello, electronics, and visual projections, in collaboration with composer Ricardo Romaneiro and visual artist Mauricio Ceppi, to be premiered in June 2022 at the Cell NYC. With solo cello centered around a quadrophonic sound system and immersed among hanging strings of fabric that light up with videomapped projections, Strings of Life is a live audiovisual exploration of the emotions – denial, anxiety, isolation, virtual connectedness – we all experienced under quarantine.
Past highlights include appearances at Carnegie Hall, and Lincoln Center (New York); the Kennedy Center (DC); Orchestra Hall, Ravinia Festival, and Chicago Cultural Center (Chicago); Disney Hall (LA); National Arts Center (Ottawa); Berliner Festspiele; Téatro Nacional (Dominican Republic); Panama Jazz Festival; Centro Cultural Kirchner (Buenos Aires), COEX Theater (Seoul), and the Thailand National Cultural Center (Bangkok). Dhar has featured as soloist with the orchestras of Houston, Green Bay, Edmonton, Florida, Dominican Republic, Córdoba (Argentina), and Juilliard, with which he performed William Schuman's A Song of Orpheus at David Geffen (Avery Fisher) Hall as part of the Juilliard School's Centennial Celebration in 2006.
Dhar is equally in demand as a chamber musician and has collaborated with artists such as Sir Simon Rattle, Itzhak Perlman, Miriam Fried, Christian Tetzlaff, Cho-Liang Lin, Gilbert Kalish, Ralph Kirshbaum, Mischa Dichter, Isabel Leonard, and members of the Emerson, Cleveland, Guarneri, and Orion Quartets. Outside the classical world, he has shared the stage with Christina Aguilera, Sting, Arijit Singh, Vampire Weekend, Tony Bennett, Dennis DeYoung (Styx), Chick Corea, Robin Williams, and Bert from Sesame Street. He has recorded over 30 albums in collaboration with other artists and has appeared, recorded and written for TV, film and ads (Annie; Allure; HBO's The Plot Against America; Budweiser, Disney, VISA, Micoli Studio).
Dhar is a founding member of the genre-defying Bohemian Trio and the cutting-edge Secret Quartet. He followed his passion for arts advocacy, entrepreneurship and engaging new audiences as a fellow of Ensemble Connect (formerly ACJW), which featured life-changing presentations at Rikers Island, schools
for special needs, children's cancer wards, and NYC flash mobs. He continues this work as a member of Decoda, the official affiliate ensemble of Carnegie Hall, and co-founded the nonprofit organizations New Docta (to nurture and mentor Latin American talent), and Cello Makes Everything Better (to make classical music more accessible and relevant to mainstream audiences).
Dr. Dhar joined the faculty of Vassar College in 2018. He was a pupil of Aldo Parisot at Yale University where he graduated cum laude with a Bachelor of Arts in History (Medieval Mediterranean Studies), a Master of Music, and an Artist Diploma. He further studied in Joel Krosnick and Darrett Adkins's studio at the Juilliard School where he earned his Doctor of Musical Arts degree and served as teaching assistant to Mr. Krosnick from 2006 to 2009. He has also worked with Paul Katz at the New England Conservatory. He plays an 1842 Jean-Baptiste Vuillaume cello. In his leisure time, he loves to learn about and taste the great wines of Burgundy and Bordeaux, and is a zealous supporter of the Chicago Cubs, Tampa Bay Buccaneers, Tampa Bay Lightning, and Arsenal FC.
YouTube, FB, IG, Tw: @yvesdhar
BA, Yale University; MM, The New England Conservatory of Music; MM, Yale University; DMA, The Juilliard School
At Vassar since 2018
Departments and Programs
Courses
MUSI 66 Violoncello
MUSI 166 Violoncello
MUSI 266 Violoncello
MUSI 366 Violoncello
MUSI 380 4th Year Instruction