Weddings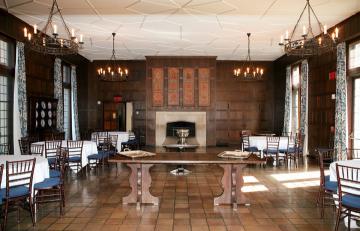 The historic charm and architecture of Alumnae House provide a sophisticated and elegant setting for wedding receptions, whether they are small, intimate gatherings or larger affairs. The grand Living Room, with its stunning triptych, grand piano, and period furnishings, provides ample space for cocktails and dancing. The walnut-paneled Dining Room seats up to 100 guests with a variety of table configurations. A lush garden terrace is available during the warmer months, while our wood-burning fireplaces create a warm and welcoming ambiance when it's cold outside.
Although the Dining Room only seats up to 100 guests, Alumnae House can accommodate larger receptions when a seated meal is not required.
All guest rooms may be blocked by the couple for the entire weekend, making Alumnae House a convenient home-base for the wedding party and their families.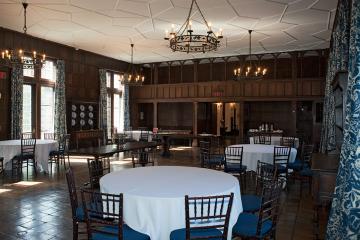 Select one of our award-winning caterers for all of your food and beverage needs. Alumnae House provides basic china, flatware, glassware, linens, tables, and chairs. Special or custom items may be obtained through your caterer. The caterers are given full access to the Alumnae House kitchen.
The Alumnae House manager and staff will work with you to plan the wedding of your dreams and make your wedding day very special. We can also assist with planning your rehearsal dinner, welcoming reception, or brunch after the wedding.
To inquire about hosting a wedding reception at Alumnae House, please contact Martha Barry, Alumnae House Manager, at (845) 437-7150 or mabarry@vassar.edu.